BBVA sponsors the Climate Summit's inaugural lunch, planned and prepared by the Roca brothers
The climate summit in Madrid kicks off with a reception for world leaders who, over the course of the next few days, will discuss the environmental challenges confronting the planet. BBVA sponsors the inaugural lunch with a sustainable menu designed by the brothers of El Celler de Can Roca. The chefs from Spain's northeastern city of Girona have created a culinary overture to invite reflection on some of the most relevant topics to be addressed at the summit.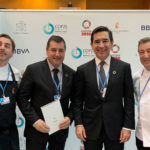 "Today's menu is an example of how food can be a catalyst of sustainability, development, innovation, and social integration. A vehicle to propel our purpose: to bring the age of opportunity to everyone," BBVA's executive chairman explained. Carlos Torres Vila joined the Roca brothers moments before the start of the meal, prepared especially for heads of state, government leaders, and delegations attending the summit.
Joan, Josep, and Jordi Roca have created a menu that provides commentary on the Earth's higher temperatures, rising oceans, fair trade, and invasive species that alter indigenous biodiversity. These dishes are made from locally sourced products, using cuisine as a tool "to create awareness" Joan Roca explained.