BBVA and El Celler de Can Roca prepare the inaugural lunch for the Climate Summit
The Roca brothers of El Celler de Can Roca fame have created the dishes that will be served to prime ministers, heads of state, government officials, and the United Nations' Secretary-General at the opening lunch of the next Climate Summit. The summit gets underway next Monday, December 2, in Madrid. The meal, sponsored by BBVA with a menu prepared by the Roca brothers, is based on local Spanish products and a cuisine that is amenable to small-scale farmers. "Cuisine is a transformative tool that can raise awareness and advocate for sustainability," Joan Roca stated.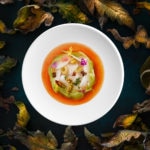 The United Nations Conference on Climate Change (COP 25) begins on December 2 with a luncheon to welcome participating leaders. BBVA is sponsoring the meal, which will be prepared by the Roca brothers, owners of El Celler de Can Roca. The world-renowned chefs will deliver a culinary gesture, using food supply as a topic to kick-off the discussion and to shed light on aspects of the climate emergency that have hitherto been overlooked. They have created a thought-provoking menu, which is "used as a means to raise awareness, but also consists of dishes that are tender, tasty and made with care."
"In 2013, BBVA and El Celler de Can Roca began a collaboration based on shared values and a strategy focused on sustainability and the development of the communities with which we interact." explained Carlos Torres Vila, BBVA executive chairman. The lunch, prepared by the Roca brothers and sponsored by the bank, serves as further proof of BBVA's values and commitment to the communities it serves: "Today's meal exemplifies how cuisine can be a factor in sustainability, development, innovation, and social inclusion; a vehicle to advance our purpose: to bring the age of opportunity to everyone," Torres Vila added.
Joan Roca faces the challenge with the responsibility that such an opportunity implies: "As sponsors, BBVA initiated the project by reaching out to ask us to create the menu and prepare the lunch. It is a challenge indeed to use cuisine as an awareness-raising tool." The family team of chefs who come from Girona in the northeast of Spain have designed a menu that should appeal to one's conscience; the meal alludes to some of the significant environmental problems to be addressed during the summit. "We have included dishes on the menu that substitute meat products with vegetable proteins. We use the dishes to conjure up oceans and address drought. We played a game with these issues so that through ingenuity and creativity we could send a message and raise awareness," explains the eldest of the brothers.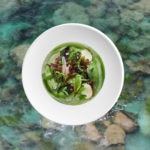 Sea and mountain landscape from vegetables - El Celler de Can Roca
"The Earth Is Withering. A menu for awareness raising"
The Roca brothers have designed a meal that starts with a dish to address the global water problem. "Clear water & dirty water" addresses our oceans and droughts; it is a dish "that represents the water that falls in a pool, that is inspired by a dry lake; it actually consists of freeze-dried porcini mushrooms, which turn to a kind of mud when crystalline water falls upon them. Obviously it is tasty and delicious, but the visual impact is striking," explains Joan Roca.
With the dish entitled "Invasive varieties in an uncontrolled botanical migration" using the blue crab from Delta del Ebro as an example, the chefs dish out the issue of invasive crops and species that alter native ecosystems and biodiversity. The rise in temperature is addressed in "Hot seas, eating imbalance" creating a sea and mountain landscape from vegetables; and with the dish entitled "Vegetable fermentation, a gateway to struggle against famine and food waste" they will comment on ancient techniques of food conservation, such as pickling. With "Urgent: We must minimize our intake of animal protein and increase our intake of vegetable protein" they analyze the problem of meat consumption in a visual game that they have called "vegetable flesh."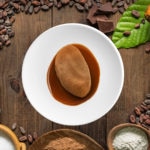 Cocoa bean - El Celler de Can Roca
The desserts address the topic of fair trade (with a cocoa bean product from the indigenous community of the Arhuacos in the Sierra Nevada of Colombia); the water and wine will speak to floods and fires and the comeback of distilled products with their Ars Natura Líquida project. The menu that will be accompanied by dishware and glasses made of recycled glass made by El Celler de Can Roca's recycling project (Roca Recicla). There will also be a centerpiece on each table, an artistic creation touching on recycling by social artist, Joan Crous, from Bologna's EtaBeta cooperative.
A gastronomic display, created to be appetizing, but also to raise questions about our present and encourage future solutions. "Cuisine is a transformative tool that can raise awareness and advocate for sustainability," Joan Roca concluded.
The Earth Is Withering - A menu for awareness raising