BBVA's new brand  has now been rolled-out across all the countries within the bank's footprint. The process of deploying the new corporate image will continue for the next six to twelve months, reaching all channels, both physical and virtual, and all customer touchpoints.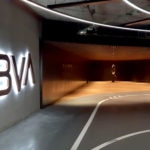 In Spain, Argentina, Colombia, Peru, Mexico, Paraguay, Uruguay, the United States, and Turkey tireless efforts made the debut of the bank's rebranding possible. This project demonstrates that BBVA employees from around the world work together as a single team, dedicated to a common purpose. This is truly a momentous milestone for a company and brand with 160 years of history behind it.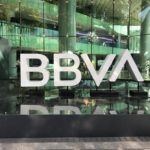 Entrance to the corporate headquarters in Mexico City.
BBVA employees in Mexico City can now see the new logo on display at the entrance of the BBVA Tower.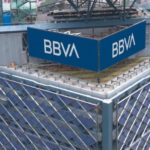 The new logo now sits at the top of the BBVA tower, above the Paseo Reforma in the Mexican capital.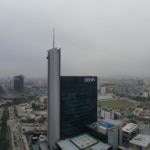 Corporate headquarters in San Isidro district, in Lima.
In Peru, the new logo can be seen from every corner of the city.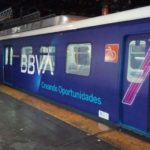 The BBVA campaign in the Buenos Aires metro system.
In Argentina, the Buenos Aires metro system was "all decked out" in blue for the launch of the rebranding.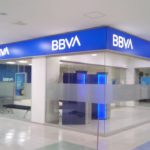 A BBVA office in Colombia.
In Colombia, the offices have begun to take on the look of the new brand.
BBVA headquarters in Uruguay.
The historic Casa Central in Montevideo now has the new logo adorning its entrance.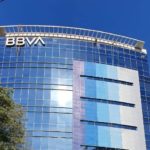 BBVA headquarters in Paraguay.
In Asunción, the new BBVA logo now overlooks the capital's financial center.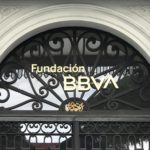 The entrance to the BBVA Foundation in Spain.
In Madrid, the historic building that houses the BBVA Foundation also inaugurated the new logo.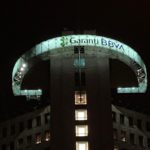 The Garanti BBVA headquarters in Istanbul.
In Turkey, Garanti is now Garanti BBVA.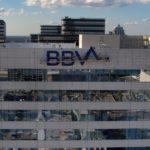 BBVA headquarters in Houston.
In Houston, significant effort was made on the chosen day to end everyone's suspense by unveiling the awaited logo.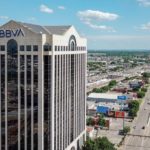 BBVA headquarters in Dallas.
Also in the United States, Dallas premiered the new image.