Birmingham startup Conserv chosen as winner of Launchpad Contest from BBVA USA and Birmingham Legion FC
BBVA USA and Birmingham Legion FC have announced Conserv as the winner of the 2019 Launchpad contest, awarding the tech startup $2,500, among other prizes.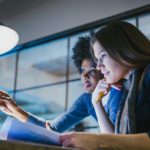 In the first edition of the competition with Birmingham Legion FC, Launchpad focused on Birmingham-area start-up businesses that needed a financial boost to become digitally innovative. Conserv was founded with a goal of bringing better preventive care to the world's more than 450,000 art and cultural collections, through innovative technology.
"Conserve not only uses technology to enhance their business operations, they use technology to bring innovation and disruption to the art and cultural preservation sector," said BBVA USA Birmingham CEO Andrea Smith. "When examining the digital transformation of specific industries across the United States, this is the type of industry that people may not realize is ripe for innovation. We're a bank that is committed to digital transformation and embrace disruption. Conserv and their vision aligns with our own. Congratulations to their groundbreaking team on this award - it is well deserved."
Established in early 2019, Conserv aimed to help conservation professionals with the difficult challenge of preserving shared cultural heritage. Their first solution launched in July, which was called Conservation Studio. Conservation Studio is currently focused on environmental monitoring, but will soon include facilities reporting, condition and treatment reports.
"Through BBVA Launchpad, Legion FC is proud to collaborate with and support local business," said club president and general manager Jay Heaps. "Conserv has proven to have a great initial business model and a vision for future growth.  We congratulate them on their success and have high hopes that they, too, will continue to Hammer Down!"
Previous versions of Launchpad gave small business owners a chance to submit their entries, detailing the nature of their operations and what they would do with their winnings. This year, the contest criteria included judging on how potential candidates would leverage the introduction of new technology to make their businesses more productive.
With Conserv as the winner, they will receive the grand prize of $2,500 and consultations with Legion FC and BBVA USA executives. Company representatives will be presented a check during halftime of the  next Legion FC home game, September 13.
The new Launchpad contest gave participants the chance to submit their business plan by July 12. After the submission period ended, judging commenced between Legion and BBVA USA representatives. After four finalists were then announced, fans had the chance to vote on the winner online.