By motorcycle, boat and on foot, this is the story of how we take the financial system where no one else does
45 minutes by motorcycle, half an hour by boat and 15 minutes on foot. That is how Sergio Pacheco and Victor Madera, loan officers of the BBVA Microfinance Foundation in Colombia, manage to bring financial services where no one else does. This journey is just one example among the numerous cases that can be found in the countries where the Foundation works. These are the lengths to which they go to reach those who live outside the financial system, which is another barrier to their progress. In 2020, BBVAMF has banked nearly 300,000 people in Colombia and Peru, and its two institutions combined have reached more than 2.1 million clients.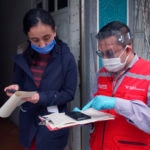 "This crisis has put the microfinance sector to the test, but it has also demonstrated its value. An example of this are the financial inclusion efforts we have made in Colombia and Peru, so that hundreds of thousands of vulnerable people can access public aid and emergency loans to revive their small businesses during very difficult times," says BBVAMF CEO Javier M. Flores
Bancamía—the institution in Colombia—has used technology to geolocate some of the beneficiaries of the 'Ingreso Solidario' subsidy and open savings accounts for them on the spot, as Sergio and Víctor have done, so these new customers don't have to go to a branch. With the help of banking correspondents and services provided by the branches, Bancamía has made it possible for 182,100 people to access the financial system for the first time and receive this public assistance.
In the capital, this door-to-door service has been particularly helpful bringing the Bogota Solidaria en Casa subsidy to the elderly or people with disabilities that prevent them from going to a bank. In Bogota, Bancamía has banked 87,700 people in situations of poverty or vulnerability.
In total, 270,000 people have entered the financial system thanks to the BBVA Microfinance Foundation in Colombia: 69% are women, 20% live in rural areas and 44% have at most a primary education. This process has been accompanied by an effort to digitize new users, to make this financial inclusion sustainable and allow them access to all the advantages offered by belonging to a financial institution. To date, 60,000 new customers are using digital platforms to manage their money, with nearly 750,000 transactions, such as transfers, cell phone recharges, purchases, and utility payments.
Microcredits to reactivate economic activity in Peru
The BBVA Microfinance Foundation in Peru—Financiera Confianza—has also committed itself in 2020 to financial inclusion, to mitigate the impact of the pandemic on the most vulnerable segments of society. As in the case of Bancamía, opening a savings account has enabled 178,000 households to access the 'Bono Familiar Universal' through Financiera Confianza. Of these, some 3,400 people were totally unbanked.
In addition, in line with its mission of supporting low-income entrepreneurs, the entity has banked more than 23,400 people through microcredits to revive their small businesses —55% are women and 35% live in rural areas.
More than 2.6 million people across five Latin American countries receive support from the BBVA Microfinance Foundation. Now more than ever, the BBVAMF works to give everyone equal access to financial services and serve vulnerable entrepreneurs, wherever they are, to help them overcome many of the obstacles that the pandemic has exacerbated.