BBVA's goal is to make the opportunities of this new era available to everyone. Being connected and having operational capabilities from anywhere in the world is more important than ever given the circumstances. The correspondent banking team, also known as International Financial Institutions (IFI), is a key part of this endeavor.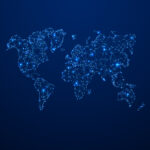 In line with its cross-border and global business approach, BBVA is present in more than 30 countries but provides banking services in as many as 166 countries. This is possible thanks to the work of the correspondent banking team, also known as International Financial Institutions (IFI), which has established a global network of banks that provides clients with the ability to invest and operate internationally.
BBVA's correspondent banking business aims to build international relationships and establish strategic alliances with banks from different countries, which are known as correspondent banks. Cooperation with these banks generates benefits for both parties. On the one hand, BBVA can offer its clients a global reach in their international investments and transactions; and on the other, correspondent banks can access BBVA's products and services in all the countries where the bank is present.
This business line includes products such as international guarantees, cross-border payments, cash management, interbank financing and export letters of credit, among others. IFI bankers specialize in different international markets and are able to provide advisory which improves clients' experience when dealing with local regulations, technical capabilities or different banking practices worldwide.
For example, a correspondent bank enables the issuance of a bank guarantee that will allow a Spanish company to participate in the tender for a highway in Australia. Although BBVA does not have a presence in Australia, it has a correspondent relationship with a leading local bank which allows BBVA's clients to obtain the financial instruments they need. In the same way, a Canadian multinational company can make payments to its subsidiary in Mexico thanks to the fact that BBVA can process payments in Mexican pesos for Canadian banks, an activity known in the financial sector as "clearing."
BBVA's correspondent banking model
The financial sector is in full transformation, mainly driven by four factors: evolution of the purchasing habits of clients; emergence of new non-bank competitors; the pandemic accelerating companies' digital transformation; and increase in the awareness for sustainability.
Esther Galiana, Global Head of International Financial Institutions at BBVA, assures that: "We find ourselves in a very interesting moment that will shape the future of the global financial sector. At BBVA we are committed to providing clients with operational excellence, security and scope in all our solutions, while innovating and supporting the industry's leading initiatives."
"We want to accompany our clients in their transition to a more sustainable and inclusive model"
In line with this transformation, BBVA was one of the first banks in the world to incorporate SWIFT GPI technology for international payments. This payment standard allows international transfers to be made in a matter of minutes, with transparency and real time traceability. With the rise of remote working due to the pandemic, the use of e-signatures and the digital presentation of documents have been key to limiting the impact of the confinement on international trade and investments.
BBVA's commitment to sustainability is also present in the correspondent banking model. "We want to accompany our clients in their transition to a more sustainable and inclusive model both in their operations and in their international businesses," explains Esther Galiana. In 2020, BBVA Garanti obtained a syndicated loan of nearly $700 million from its correspondent banks linked to sustainability criteria in environmental, social and governance matters. With this agreement, the bank for the first time included its renewable energy commitments in its international wholesale funding activities.