Ninety percent of  Danish smartphone users have an app to be able to make payments and transfers via their cell phone.The app in question is Danske Bank's MobilePay, which is a success story that points the way for Denmark in its goal of reaching a cashless society.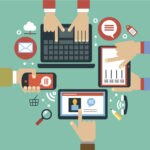 Simplicity is the key to success. Claus Bukenborg, head of Customer Solutions for Danske Bank, is convinced that the rise of the MobilePay app created by this financial institution is due to the simplicity of the registration process, "only the minimum steps are requested and it's very easy to use".The numbers show the success: 90% of smartphones in Denmark have this app.
At the event No Money, the end of cash held in Madrid, Bukenborg highlighted the qualities of this app: "It can be used with any bank; only a phone number and a credit card is needed.Something that all Danes have."You can register and be a user without being a customer of the traditional bank and you can do it from your phone without going to a branch," he said.
Denmark wants a cashless society and the next step of this project will reach retailers, small traders and department stores.Thus, from P2P (peer to peer, between people) payments it has made the leap not only to e-commerce, but to traditional commerce. Bukenborg stressed that the key is simplicity: "The operation is the same at establishments. A request is sent to the retailer's customer so he or she can make a payment in a few steps," he said.
Why Denmark?
To understand this success, Bukenborg stressed that it is necessary to understand the history of changes in Denmark."This process hasn't been initiated recently; innovations have been introduced over the last 30 years in the country, from direct payments of receipts, the disappearance of the check, to it being considered normal to track operations through all citizens' social security numbers.In Denmark we are extremely used to ensuring that there is a record of everything and it's known how much we earn ... mobile payment was a natural step".
Bukenborg explained that any resistance and delay to this cashless society has come about because of the age of people."Some older people just don't use a phone or cards; therefore, it's not just about how we use cash, but out of concern for these people who cannot use this new payment method."
In short, the MobilePay manager highlighted the payment infrastructure in Denmark, which has been greatly developed in recent years with online banking  and mobile banking.In his view, this is one of the reasons why "There's not so much resistance to registration or reluctance" to the new payments.
Nevertheless, Bukenborg insisted that Danske Bank itself has been surprised by the success and its speed. As a key he highlighted that the collaboration between the private sector (banks) and the public sector (institutions) in Denmark has led to this innovation.
Financial innovation
"When we started the project we were a small team, it was an experiment, a pilot project, but it grew very quickly and received a lot of attention from the media at a time when the bank was seeking alternatives amid the economic crisis."
In his opinion, this tool has shown that, "although the bank did not have a way out of the crisis, it established a strategy based on innovation and direct dialogue with customers that had a great result."
At present MobilePay is not within the bank's official organization, "It's almost like a startup, because it has to be free of the bank's rules and the traditional bureaucracy.This is what allows us to drive innovation."
Security doubts
Bukenborg also responded to one of the big questions about these innovations in methods of payment: how secure the process is."We have a credit/debit card infrastructure that supports the program, so if there is any fraudulent use, our organization takes responsibility for it," the head of Danske Bank highlighted. "We've not had any hacking cases to date", he concluded.