As expected the European Central Bank (ECB) yesterday took a further step toward the normalization of its monetary policy. That is BBVA Research's reading of the situation in its ECB Watch report. The institution headed by Mario Draghi left interest rates unchanged and will continue with its asset-purchasing program, commonly known in English as quantitative easing (QE). The main development that emerged from the policy meeting was the dropping of the "explicit reference" to the possibility of increasing the size of the program. And that already represents a change.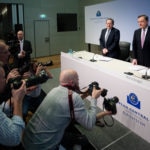 The ECB's asset-purchasing program will, therefore, remain in place at a monthly rate of 30 billion euros until September 2018, or beyond, or in any case until the institution sees a sustainable adjustment in inflation consistent with its inflation target of around 2%.
However, the central bank dropped its reference to increasing the size and duration of the program if the situation gets worse, known as an easing or flexibilization bias. The ECB Watch report considers the withdrawal of this bias to be "the next logical step in the normalization process of monetary policy" in line with what BBVA Research expected. The decision was unanimous and reflects the improvement in the economy and in confidence.
The ECB slightly increased its short-term macroeconomic forecasts. As BBVA Research points out, the GDP growth forecast was revised upward by 0.1 percentage points to 2.4% for 2018 and was maintained unchanged for 2019 and 2020 at 1.9% and 1.7% respectively.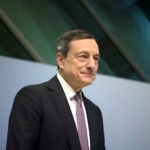 Mario Draghi during the ECB's press conference - ECB
Mario Draghi yesterday warned about the risks of the trade measures adopted by the United States. Although the immediate effect should not be significant, Draghi believes unilateral decisions are dangerous and that the end effect depends on many factors such as retaliation by the US's trading partners and the response of exchange rates and confidence, the ECB Watch points out. The report also notes that Draghi brought up the risk of financial deregulation.
On the inflation front, the forecasts were kept practically unchanged. The Governing Council did not discuss the risks of inflation, but Draghi underscored that the outlook remains conditioned to the extensive degree of monetary stimulus, BBVA Research points out.
Draghi took pains to emphasize that other changes were not discussed at the March meeting. Likewise, the central bank's monetary policy remains active rather than proactive as the ECB Watch report notes. "The message of the ECB is in line with our expectations of gradual changes in monetary policy while maintaining a cautious tone," the report continues. BBVA Research believes the baseline scenario remains unchanged, with QE expected to be removed in the last quarter of 2018 and for interest rates to rise in 2019. It also believes that the ECB could take the next step in June.