Valora Coches, the tool that helps you decide whether to change vehicles or not, reaches nearly two million hits
Valora Coches, the BBVA Group tool for customers and non-customers that helps you decide whether to change your vehicle or not, continues to grow. From its late February 2020 launch in Spain until July 2021 it registered almost two million hits and more than 900,000 vehicle searches. In March 2021, the tool reached its highest figures with 100,000 hits and 50,000 car searches.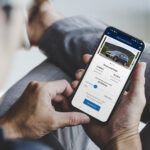 Knowing the approximate price of a second-hand vehicle for sale or purchase is essential to facing one of the most common financial decisions. For this reason, BBVA launched Valora Coches at the beginning of 2020. In its 18 months, Valora Cars has registered about 920,000 vehicle searches. Of the total, around 25 percent of the searches were carried out in the first six months of 2021 and more than 400,000 hits were registered in the first half of the year. March has registered the best numbers so far in 2021.
Since its launch, around 12 percent of the bank's clients who requested a car loan have relied on Valora Coches.
Buying a car, a very important financial decision
Purchasing a vehicle requires research and time. In most cases, people will face this situation five or six times in their lifetime.
To help you with your decision, Valora Coches allows you to carry out a simulation of what the financing of a second-hand car or new one would entail. In the event that you are a BBVA customer, the functionality itself offers a detailed analysis of what the monthly installment of your loan would be, as well as its repayment terms and conditions. Valora Coches offers all these services thanks to technology provided by Madiva Soluciones, a tech startup acquired by BBVA in 2014.