Euromoney: "Francisco González, the digital banker"
The British magazine Euromoney has published an extensive article on BBVA and its leadership in the transformation of the financial industry. Under the title "Francisco González, the digital banker", Euromoney describes the bank's transformation, and takes a look at the BBVA Group's strategy of the last few years to become a leader in digital banking.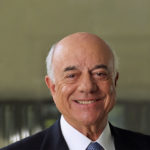 The article starts off with a description of the Data Procession Center (DPC) in Tres Cantos, in Madrid, from where BBVA is spearheading a "banking revolution" and it is "a powerful physical manifestation of the Spanish bank's digital vision", according to Euromoney. As the magazine points out, if in 2006 there were 90 million digital transactions a day globally across BBVA's entire banking business. Today, that figure is around 250 million; by 2020 González believes that it could grow to as high as 1 billion. The CPD has the highest global rating in data center design and construction (Tier IV).
Euromoney takes an in-depth look at Francisco González' technological background and his commitment to "embarking on the type of bold transformational strategy few other global bank CEOs seem to want, or are indeed able, to grasp fully".
According to the magazine, Francisco González wants to transform BBVA into the first truly global digital bank, reinventing itself as a knowledge-based company. This is very different to the strategic visions set out by most other CEOs of large global banks in the post-financial crisis era, it added.
Euromoney points out recent BBVA milestones, such as its investment in technological platforms, setting up a new unit called Digital Banking and the purchase of Simple, which increases the bank's potential in the U.S. "BBVA's progress thus far looks impressive, but what's surprising is the lack of any equal aggression among other banks to pursue a more emphatic digital strategy", says the article.
The magazine mentions that BBVA is already positioning itself to take on new competitors with digital products and services, especially in mobile payment systems and social media, such as BBVA Wallet or BBVA Link. For example, BBVA Wallet and become the most widely used mobile payment bank application in Spain, with over 280,000 users. For the time being, it is only available in Spain, but this year it will be launched in the United States, Mexico and Chile. BBVA Link, a BBVA initiative in Chile, is the first banking account on Facebook in Latin America.
A crucial part of the bank's digital strategy is working with open platforms. Opening APIs allows banks to provide services for startups or online giants that are going to burst into the banking industry. "We can provide financial capabilities to any third party that wants to offer financial products or services", pointed out Luis Uguina, head of Technology at Digital Banking.
Likewise, Luis Uguina talks about how the role of bank branches is changing and how they will evolve to provide a more value-added service for customers. Furthermore, he talks about BBVA's omni-channel strategy to offer customers whatever they need over any channel, whether it is a branch office, a smartphone, tablet or PC.
Ignacio Bernal, head of IT Development at BBVA, says that "one of the main advantages of the support that we receive at board level is that we are allowed to think in terms of medium and long-term initiatives. At other banks, they want to work on the same initiatives, but their boards are too focused on the short term".
Last July, Euromoney honored BBVA's digital project to lead the financial industry of the 21st century with the award for the best transformation by a global financial institution in the last year. The panel for the Euromoney Awards for Excellence 2014 honored BBVA for the achievements of its management team in transforming the business, which stems from a far-reaching strategic shift to face the new challenges in the banking business.