BBVA in Peru has been chosen as the best bank in the country by Euromoney magazine during its 'Awards for Excellence 2023.' The specialist financial magazine praised the bank's operational excellence, as well as its growth in the retail segment.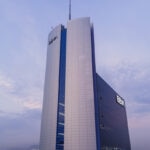 The Euromoney Awards for Excellence awards are among the foremost recognitions for the financial sector worldwide. Through these awards, the magazine recognises the performance of the best banks in different countries and geographic regions.
Following a record number of applications from all over the world, BBVA  has come out ahead of its competitors and has been named the best financial institution in Peru. The bank has stood out for its financial performance and resilience to a challenging economic environment, reporting a 28.4% increase in its gross interest income in 2022. 
The bank has also made clear progress in its operational effectiveness in recent years, with a 70 percent growth in its loan portfolio, while credit cards grew by 31.8 percent.
The magazine points out that BBVA in Peru launched an intensive plan in 2022 to turn it into a more retail bank, under a strategy of digitalisation, innovation and sustainability. Thus, the bank was able to close the year with more than 1.3 million new customers, 3.5 million digital customers, placing more than 40,000 credit cards per month and becoming the number one card issuer in the country.
The challenge for 2023
"This award is an incentive for us to continue working to make the opportunities of this new era available to all Peruvians. It is also a commitment to continue contributing to the sustainable development and progress of the country. Congratulations to all the teams for being recognised as the best bank in the country," said Fernando Eguiluz, CEO of BBVA Peru.
BBVA's goal this year is to achieve double-digit growth in the world of individuals, SMEs and medium-sized companies through consumer credit products, cards and mortgages. Similarly, the bank continues to drive a very strong agenda of sustainable products to contribute to a greener and more inclusive future in the country.
"We are working on new products and services to be able to provide a better end-to-end offering to customers, enhancing the physical and online channels to support them in the management of their daily lives," said Fernando Eguiluz.
The Euromoney Excellence Awards were born in 1992 and were pioneers in the global financial industry. In this latest 2022 round, Euromoney received nominations from banks in almost 100 countries.