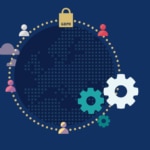 Santiago Fernández de Lis participated in a panel discussion on 'EU Capital Markets and Banking in the Digital Age: Perspectives for Financial Integration' where he explained that the growth in digital ecosystems has shown that the value of user data extends beyond the industry or company where it was generated. Furthermore, it can be reused, which represents significant potential for consumers.
Nevertheless, there is still disparity in data sharing requirements: "Financial institutions are required to provide standardized, real-time access to data, but data that originates from other industries is not subject to the same terms."  In other words, when it comes to exploiting the opportunities that arise from artificial intelligence and the generation, storage, processing, and analysis of data, financial institutions have been placed in a more difficult position than their competitors
"The Financial Stability Board specifically referred to this disparity in a recent report that analyzes its potential impact on financial stability. This merits greater consideration from the authorities," Fernández de Lis pointed out. He believes the framework that regulates access to data should be applied equally across all industries, with the aim of creating a comprehensive user-centric framework for the exchange of data.
The financial authorities have already begun to discuss the potential repercussions of major technological developments in the financial sector, including the impacts on the composition of the market, on the competitive landscape, and on financial stability. The concerns arise from the fact that "big tech" companies have extensive customer bases, significant financial means, and unparalleled access to data, which gives them a competitive advantage over banks or fintech competitors and could unleash sudden, drastic changes to financial markets.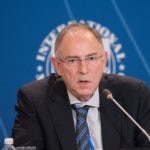 BBVA Head of Regulation, Santiago Fernández de Lis.
Cross-sector, international cooperation is essential
The challenges associated with digitization, data governance, and financial stability clearly demonstrate how digital markets are inherently difficult to contain within the confines of an industry or within geographic borders.
Fernández de Lis advocates for the harmonization of national and industry responses, thus evolving into a single cross-border, cross-sector response. "Without this coordination, the different national and industry approaches will open the door to regulatory arbitrage, complicating the international trade of digital goods and services, and undermining the benefits of the digital age for everyone," he warned.
Fernández de Lis stressed that the EU must assume a key role, working to ensure steady progress towards a completely integrated, properly functioning single market. "If we have a true single digital market maybe there will be less need for cross-border mergers," he surmised.
On the other hand, "the digitization of financial services and the emergence of fintech are factors that unquestionably contribute to the achievement of a true single market in Europe, by encouraging cross-border demand and simplifying the delivery of financial services," Fernández de Lis asserted. This is also beneficial for European consumers who will have access to a wider range of financial services and products. However, he also stressed that such a varied offering requires "greater harmonization in the regulatory and supervisory practices in Europe."
The experts at the conference discussed more than financial services; they also addressed the sweeping challenges of digitization, like the propagation of fake news, election-meddling, discrimination, and social exclusion. According to Fernández de Lis, "A common European response is needed to ensure that the innovation that promotes growth is grounded in the very foundations that preserve our rights and values."