Carlos Torres Vila: "Through data and artificial intelligence we can improve our customers' financial health"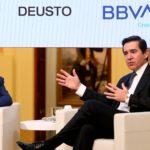 BBVA's Group Executive Chairman participated this Monday in the presentation of 'Superpowers of Artificial Intelligence', the latest book by Kai-Fu Lee, one of the world's most authoritative voices in the field of Artificial Intelligence. Both were invited to feature as speakers in a discussion panel and share their insights into the technological revolution and how it is reshaping society. "Through data and artificial intelligence we can improve our customers' financial health," said Carlos Torres Vila.
Kai-Fu Lee, investor in China, is regarded as one of the world's leading visionaries in tech and Artificial Intelligence (AI), and is the founder, chairman and CEO of Sinovation Ventures, a technology venture capital. In 2018, BBVA invested $50 million in Sinovation's Fund IV, specializing in artificial intelligence. Kai-Fu Lee has also contributed to the latest volume of BBVA's OpenMind book series, entitled 'Work in the data age'.
Kai-Fu Lee visited this week Madrid to present his latest book, 'Superpowers of Artificial Intelligence', in which he ponders on what he dubs the four waves of artificial intelligence: Internet AI, business AI, perception AI and autonomous AI. Thus, in a first phase, artificial intelligence learning processes were based on the data collected from people's online choices. In a second wave, it was incorporated into the productive corporate processes. In a third, still in its infancy, AI is integrated into the physical sensor ecosystem (facial, voice recognition ...), and in a fourth, which is yet to come, AI integrates all the previous waves enabling machines to run autonomously in a productive manner.
Carlos Torres Vila explained how, true to its purpose to 'bring the age of opportunity to everyone', BBVA has spent the last five years working hard to digitize its business, to an extent such that digital sales now account for more than 50 percent of total sales. As for AI, the BBVA Chairman explained that the Group is already using this technology to boost efficiency, achieve operational excellence or grow its customers base, as well as different applications, including fraud detection, repetitive administrative tasks.
As for the company's approach to leveraging data and technology, he explained that the company is currently focusing on "delivering a better service to our customers", and "helping them make better decisions that actually help them improve their financial health."
The BBVA Chairman also explained that data is a key driver of economic value, and that this trend is going to intensify going forward. "That is why it doesn't make too much sense that there are different regulations around data in different in different regions of the world, and even within the same region, between sectors, because this source of value is cross-sectorial," he said. Torres Vila also noted that data can be reused and used simultaneously. "There's a limit to the use of data, which is privacy, but before getting to that point there is still a huge amount of data that is public and could be reused". Thus traffic or meteorological data, even non-personal health data, could be harnessed, explained Carlos Torres Vila, to create wealth, but this requires a more open regulation in Europe, to empower each individual to choose the companies, regardless of sectors, they want share their data with, provided that their privacy is always safeguarded.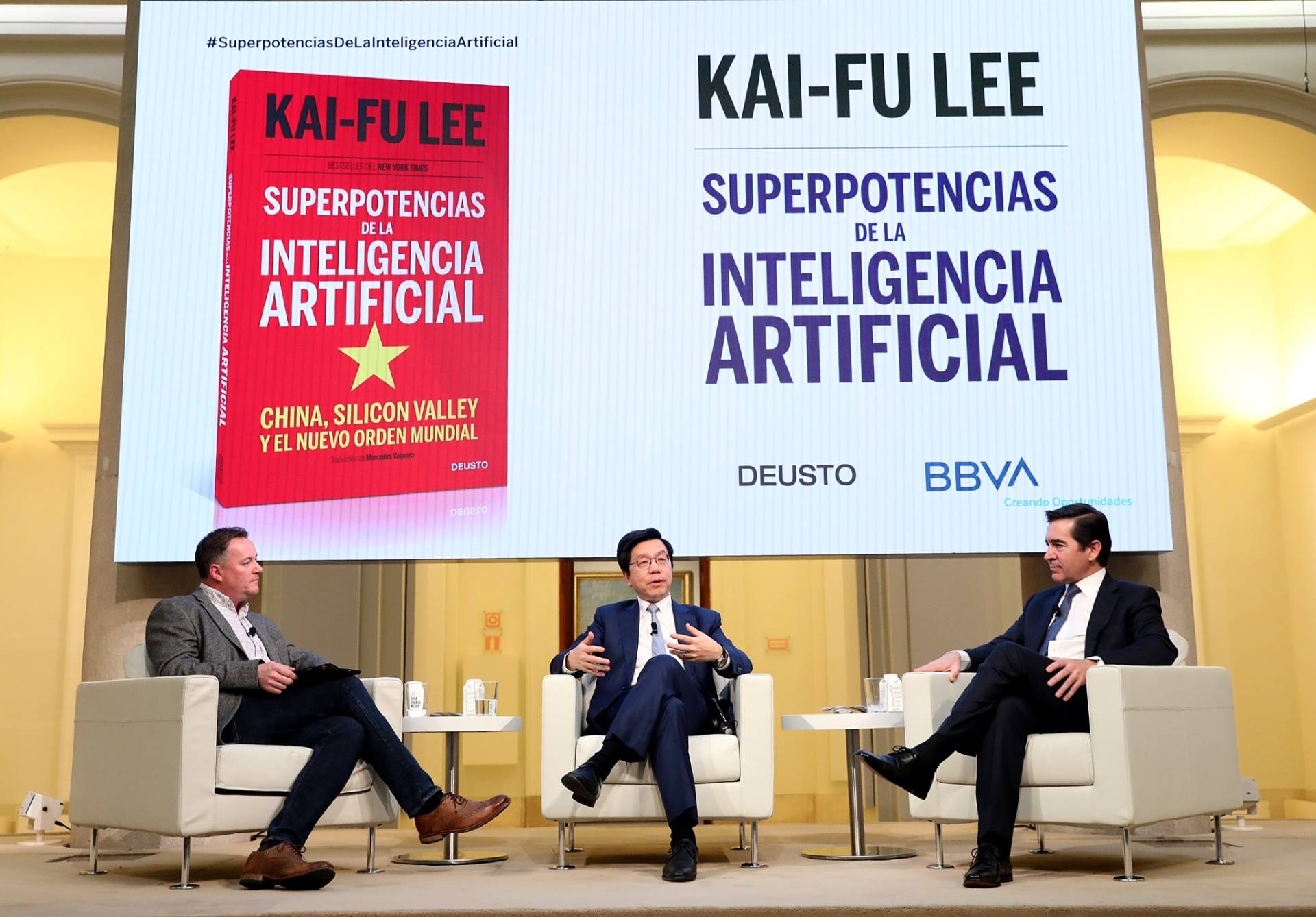 Carlos Torres Vila and Kai-fu Lee shared their insights into the technological revolution and how it is reshaping society.
Sinovation IV, access to the Chinese technology market
Asked about BBVA's investment in Sinovation IV, Torres Vila explained that in the last five years, China has gone from being an imitator in terms of technology to driving authentic innovation. "The Sinovation IV Fund investment has granted BBVA access to this market, to the knowledge, and, eventually to co-invest in companies that are leading change in that part of the world," he explained. Carlos Torres Vila has stressed that one of the great advantages of China is its population and the tremendous traffic of data that it creates, which can be used to develop new algorithms.
Looking ahead, Carlos Torres Vila predicted that artificial intelligence will be ubiquitous, part of all aspects of life. "We will all have a very powerful personal assistant in our lives that will provide opportunities for everyone," he said.