Youth
Updated: 22 Aug 2017
Four means of bridging the gap between the 'Millennial' generation and financial services
The challenge posed by Millennials necessitates a rapid response from the financial industry.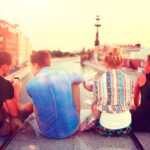 Millennials will control an estimated combined purchasing power of 200 billion dollars by 2017, which is set to rise to 10 billion over their lifetimes. It is no secret that a breach has opened between financial services and Millennials. The global financial crisis of 2008 ushered in a new period of skepticism, which is reflected in striking data found by a number of studies, and especially in this particular segment of the global population.
According to the Millennial Disruption Index, said generation has no qualms about changing bank within 90 days. Just over half (53%) believe their bank offers nothing to differentiate it from any other, and as many as 71% would prefer to go to the dentist than listen what their bank has to say.
Four steps toward bridging the gap
1-. Drop the branch-based model.
A study entitled Bank to the Future: Millennials are Driving Trends in Banking Services, shows that 90% of Millennials use their bank's digital services rather than going to a branch. They also prefer to deal with any queries they may have online rather than making a trip to the bank.
Banks are already aware of this trend, as evidenced by use of digital banking channels growing faster than general Internet use. However, a more convincing response is required. Especially as 33% of millennials believe they will not need banks to manage their finances in future.
2-. Offer innovative products
The Millennial generation believes innovation in financial services is set to come from outside of the industry. Up to 73% say they would be far more interested in offerings from companies such as Google, Apple, Amazon and PayPal, according to the Millennial Disruption Index.
Banks need to start working together to seek innovative solutions aimed at said demographic if they want to reverse this trend. Lots of fintech firms are opening business channels that support such thorny issues such as student loans.
3-. Make financial services readily available
Rigid opening schedules and customer service availability are completely at odds with the current omni-channel era. Focusing on customers, and not just this demographic, will certainly form the basis for future banking.
The usability of digital channels must also be a priority when focusing customer acquisition and retention strategies.
4-. Personalize the experience
The user experience must aim to eliminate any barriers facing customers. Full accessibility, multiple languages and personalized messages all help to convey the image of a bank that shows concern for its customers.
This is a global requirement to which the Millennial generation is particularly sensitive. When customers feel treated like a number they become exponentially more volatile in terms of financial commitment.