On June 23, WIRED Money, the day-long event which brings together some of the most significant figures involved in the global change in digital financial services, returns to London's British Museum. Partnering with BBVA for the second year running, WIRED Money has become a key fixture in the events calendar because of the quality of the speakers and delegates, its grasp of the themes that are going to shape the future of the industry and its platform for the brightest businesses of tomorrow. So what's going to be special about this year's event? Here are the 4 things to look out for at WIRED Money 2016.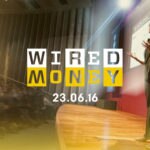 Some of the hottest startups and VC backers in financial services
Throughout the day, some of the smartest emerging fintech businesses will be competing for the WIRED Money prize on the BBVA Open Talent startup stage. Selected by WIRED magazine's editorial team from a combination of proprietary research and early entrants to BBVA's OpenTalent competition, startup stage finalists have one thing in common - their potential to positively change finance through creativity and technology. The final list of participants will be announced closer to the event, but already on the list are AI experts Cybertonica, who are using machine learning to combat fraud, Crowdaura, employing blockchain to simplify trading in financial securities and Oval, who are launching a 360° consumer plaftform that allows customers to save money on their purchases and then invest the money in P2P lending, as well as borrow money against those savings. In addition to up-and-coming fintech stars, the startup stage has judges from leading VCs, including Accel's Seth Pierrepoint.
 Uncannily accurate predictions for the future of financial services
In keeping with the parent magazine, WIRED's events have always had a reputation for pinpointing future trends, and the 2016 edition is no exception. As well as the cutting-edge companies on the startup stage, the event is organized around 6 themes:
The new bank
Reinventing insurance
Democratising investing
Designing efficiency
The rise of the machines
The potential of the distributed network
All these themes are covered on the main stage, and the companies represented read like a who's who of the new breed in financial services. New banks are represented by Fidor, Atom and Starling, while Knip, The Floow and Guevara will be explaining how they are reinventing insurance. Motif and OurCrowd will be providing the evidence for the democratization of investment, and Earthport, Deutsche Bank, Azimo, Kabbage and their technology will demonstrate the importance of efficiency. The increasing use of AI and machine learning in digital financial change is the focus for Kreditech and Feedzai and Colu, who use blockchain technology for verification purposes across a range of transactions, will show the potential of the distributed network.
Startups who've already been there and done it
As well as listening to new ideas from the competitors on the BBVA OpenTalent startup stage, there will also be a platform for presentations from previous Open Talent winners in order to provide tips on success and to encourage more entries to this year's competition.
Open Talent is BBVA's global event aimed at early stage fintech startups, with over 900 entrants in 2015 for finals in Barcelona, New York and Mexico City, and six winners receiving cash, mentoring and access to senior decision-makers at the bank. Appearing at WIRED Money will be Destacame, one of the winners of the Latin American final, who build credit histories for lower-income groups by using utility bill payment history. Also on the bill are U.S. Open Talent winners Modern Lend, who have found a way to provide financial services to overseas residents in the U.S. with no credit history. Making up the Open Talent winners list are European champions Origin Markets and Everledger. Origin is a P2P platform for corporate bonds, connecting issuers and investors. Everledger provides a blockchain registry for valuables, in particular diamonds.
Leading speakers
WIRED Money has always been able to attract speakers from the most interesting businesses with something compelling to say, and this year is no different. There's Kim Miller from Guevara - a serial entrepreneur who's set up a unique insurance business where groups of friends are insured together at a lower cost on the basis that responsibility to your peers means you'll take less risk. Then there's Anthony Thompson, Chairman of Atom Bank - formerly of METRO Bank, Thompson has helped launch a mobile-only bank that aims to provide consumers with the type of digital excellence that they're used to from leading online brands. And not forgetting BBVA's own Shamir Karkal, who after co-founding Simple, joined the bank to manage our Open API program - making some of the bank's core functionality, such as account authorization, available to third parties to build new products and businesses on.
Shamir said: "WIRED Money is special because of  its forward-thinking outlook - both in terms of people and content. It's going to be nice to share our Open API program with so many potential partners and also to get a picture of where financial services are going from people who really know.'
Greg Williams, WIRED's Deputy Editor and curator of WIRED Money, said "What makes WIRED Money so exciting is the sheer pace of change going on in fintech. Startups are bringing greater transparency, reducing costs for consumers and delivering better experiences while establishing significant companies with long term value. It's really exciting to hear how these fast growth businesses from all over the world are helping to alter the landscape and driving innovation.
Tickets are available for WIRED Money here, and if you can't make the event, you can follow it on Twitter at #WiredMoney