Francisco González: "BBVA Compass will lead the banking industry in the U.S."
During the grand opening Wednesday of BBVA Compass Plaza in Houston, BBVA Chairman and CEO Francisco González recounted the Group franchise's trajectory in America. "Over the last years, BBVA Compass has integrated all our U.S. acquisitions into one single franchise. It has strengthened its risk management systems and has changed its business model into a truly customer-oriented one".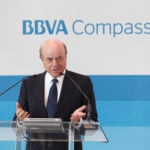 González is currently in United States, where he is participating in the grand opening of the bank's corporate offices in Houston.
"BBVA Compass is an outstanding bank that is going to lead the banking industry in the U.S.," he said. "This new building is a significant milestone and it is a great example of our will to continue growing in the U.S. market."He also explained why he thinks BBVA is a different bank thanks to a strategy based on principles, people and innovation. In regards to principles, he referred to the importance of prudence, transparency and integrity. He proceeded to describe the responsible banking that BBVA practices, highlighting financial education projects for children, adults and small businesses.
"We believe that financial education strengthens the global financial system," he said.
He also stressed that innovation is critical to address the strong changes taking place in the financial industry. He emphasized that the new technological platform is critical. BBVA Compass is the first major U.S. bank that processes in real time all of its customers' information, offering  up-to-date, simple and transparent information about their accounts.González also mentioned the BBVA Ventures project, which allocated $100 million to investments in key technology for the financial sector of the 21st century.
Finally, González said that "The U.S., Texas and Houston are top growth priorities for BBVA. We are committed to the U.S., to the prosperity of its economy and the wellbeing of its people."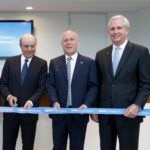 BBVA Compass Plaza
The BBVA Compass Plaza is the first high-rise building to be built in the last three decades in the Galleria, a residential and commercial area in Houston. Chairman Francisco González, BBVA Compass management and Houston business personalities attended the grand opening ceremony, which included an evening light show display at the top of the building.
The property occupies approximately 318,000 square feet and is located at 2200 Post Oak Blvd. Real estate firms Stream Realty Partners and The Redstone Companies were in charge of its construction.
This building has LEED Gold certification, which recognizes that it was constructed with sustainable materials. This is a global certification awarded to energy-efficient and high-performance sustainable buildings. More specifically, BBVA has reduced the environmental impact of the construction and operation of the building, through low water and energy consumption systems, environmental quality, improved tenant comfort surroundings and the use of sustainable materials and resources.
Five BBVA Group buildings have LEED certification. The training center, Campus La Moraleja in  Madrid, and BBVA Compass offices in Alabama and New Mexico are certified Gold. Two other BBVA properties have been awarded the next certification level, Silver: BBVA's corporate offices in Asuncion, Paraguay, and a BBVA Compass office in Arizona. In addition, BBVA is pending LEED certification in 10 other buildings in Spain, Mexico and the United States. One is the new BBVA Group corporate headquarters in Las Tablas, Madrid.
The design of the new BBVA Compass corporate offices in Houston replaces closed offices and cubicles for open plan workspaces.
"The open environment embodies our core values of simplicity and transparency," said Manolo Sánchez, BBVA Compass president and CEO. "This is an innovative workplace where we value a collaborative workspace more than wood-paneled offices."
The new BBVA Group building style promotes transparency and teamwork, combining open-space offices for all individual workstations and different types of meeting and collaboration spaces with appropriate technological capabilities geared toward these new forms of working.
More than 800 employees of BBVA Compass will occupy the building. BBVA Compass Plaza will also include a new commercial office model, an innovation center and a trading room. Bank employees have been among the first to praise the amenities, including a fitness center and a healthy food café, along with the large windows from top to bottom.
The building's interior is decorated with works by established and emerging artists from around the world as part of BBVA Compass' commitment to supporting the arts and culture in the communities where it operates.
One of the most important exhibits is a Volkswagen Beetle decorated with almost 200 pounds of colorful beads by the Huichol Indians of Mexico. The Museo de Arte Popular in Mexico City loaned the art car until the end of June. Visitors also will be able to see 20 pieces of contemporary art from the BBVA collection in Madrid.