Francisco González: "Every corner of this industry is undergoing radical change"
BBVA Chairman Francisco González stressed out the challenges that the financial industry is facing in the new digital environment.  During his address in the annual meeting of the Institute of International Finance held this weekend in Lima, he stated that "Something massive is happening in our industry. It's already underway and will only accelerate".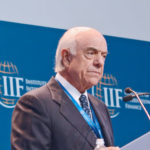 "Every corner of this industry is undergoing radical change. We all need to be up to the challenge, both the regulators and above all, us, the managers of banks. Denial is not an alternative.  Those who do not change will fall by the wayside", explained Francisco González, who recognized that "changing is not easy". For BBVA Chairman, to survive in this new environment, banks need to react. "For many, it may be already too late.
The pressure of technological developments will be the main force pushing for consolidation in the banking industry", he forecasted. The BBVA Chairman was one of the speakers at this Saturday's annual IIF meeting, held in parallel with the International Monetary Fund (IMF) and World Bank Annual Meetings.
There he explained that in order to compete in this new environment, BBVA started its digital journey 8 years ago with the construction of a state-of the-art technology platform, in what Francisco González dubbed a "been long, difficult and costly process" but which today is fully operational "Leveraging on this investment, our systems are processing today over 450 million transactions on peak days, five times more than in 2006. And they are prepared to handle the exponential increase of transactions we are expecting in the coming years".
One of the most visible consequences is the growth of the base of customers that interact with the bank through digital channels, instead of visiting the brick-and-mortar offices. "Our digital channels are currently used by 13.9 million customers (21% of our customer base), with more than 7.4 million via mobile.  This year we will reach 15 million digital active customers, and 8 million mobile active customers", said BBVA Chairman.
In his speech, Mr. González also addressed the quick growth of disruptive companies in the world of fintech. Many investors are placing their bets on the capability and development of these companies, and according to The Economist and Finovate estimates, these firms attracted $12 billion of investment in 2014, compared to $4 billion the year before.  And in the first half of 2015 alone, they have attracted $13 billion.  However, in his opinion, "most of these newcomers are still relying on conventional banks for banking infrastructure".