Francisco González: "The United States is one of the most promising markets for BBVA"
Today, Fox Business broadcast a live interview with the Chairman & CEO of BBVA. "The United States is one of the most promising markets for BBVA. It has a very digitalized society, but the banking system is a bit rudimentary. There is a gap that someone has to fill and BBVA wants to be one of the players," said Francisco González on the set of the Opening Bell show in New York.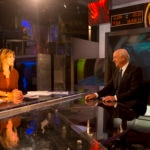 To achieve this goal, Francisco González explained during the interview that "you have to have a business model that gives customers the possibility of getting to the bank anywhere, anytime, and with any device, while receiving real responses in real time".The Chairman & CEO of BBVA also expressed his confidence in the results of the stress tests that will be made public in Europe soon. "The most important thing about the ECB exercise is that everybody will have all the data on the table. Investors and analysts will be able to crunch the numbers and see what the actual situation is. That is the main mission of the stress tests."
Commenting on the global economy
Francisco González also mentioned the macro outlook. In Latin America, he pointed out the performance of some countries such as Mexico, Colombia, Peru and Chile. As for Spain, he said the reforms implemented have enabled the country to register positive growth.
The Chairman & CEO of BBVA made these statements on Opening Bell, the morning show hosted by Maria Bartiromo, which has been on the air since last February. Francisco González is in the U.S. to take part in the annual meetings of the Institute of International Finance (IIF) and the international Monetary Fund, which are being held in Washington this week.
Click here to watch the interview.