Technology is redefining how we bank – from mobile apps to online account management – we increasingly use digital means to make our money and data work harder for us.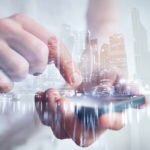 The technology already exists to have the nuances of our voices analysed to gain access to our bank account, or for Artificial Intelligence algorithms to check your account spending to help you better save for a life-goal or target.
Increasingly we are also seeing the emergence of new fintech solutions to consumer banking issues – with the convergence of technology allowing devices like Amazon's Echo, for example, being able to buy products for you with just the direction of your voice.
But where might this convergence be heading? What technologies could banking customers have access to in the near future? And more importantly, how will they improve our everyday lives?
It's a question that unsurprisingly BBVA and others are working on.One US bank recently announced it was looking at a kind of banking assistant that can actively advise you on whether it is time to pay off a credit card or that buying a product now would be a mistake.
"But in the future we can go much further
So here is just some of the latest thinking in this area – both from within my team and from some of those fintech leaders we met at the Propel Annual CEO summit in San Francisco two-weeks ago.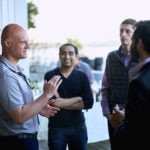 BBVA's Derek White and Ricardo Forcano during the Propel CEO Summit in San Francisco. - Pierce Larick
Let's start with a scenario suggested by Brian Roemmele of Pay Finders and Multiplex. He says: "Imagine your own personal assistant – a digital earpiece linked to your mobile phone -  hearing and remembering everything you do, say, listen to and storing it safely in the Cloud just for your benefit.
"So when you want to remember a product you heard about, or the name of that person you sat next to at dinner two years ago, the system can remember and tell you.
"Now link that kind of functionality to your financial life... and with a smart financial advisor that can help you manage your money more efficiently, and you have an incredibly powerful tool. This system will tell you it's time to move utility provider because it's actively looking at your expenditure and tracking tariffs, or to change your credit card to save you x-amount on interest. And this is all based on the power of voice. . it's the evolution of going to see your bank manager that we did 20-years-ago, but brought into the modern, digital world."
"This is great – a real example of technologies converging to add value to our customers
But what if we take it on a bit more. What if we start adding smart data management - not just on transactions, but on the contents of your bills, things like usage - to the clever AI robo-advisor algorithms, all protected with the power of blockchain distributed ledgers and cutting edge biometric identity processes, and accessed by you through real-time, real-life conversations. Then the tool can not only safely manage your money, but make your data – an extremely valuable asset – work harder for you too and in an easier, more accessible way.
Imagine this advisor being able to recall a product you were interested in at some point in the past – perhaps a new tablet computer – and telling you that now is the best time to buy it based on your financial health, what version you might need based on your usage, how you should fund the purchase, and arranging a finance deal that makes it more affordable for you, and liaising with the retailer to get the software you need and use installed, and getting it delivered, and insured. It's a combination of all the fintech disciplines, converging and collaborating together underpinned by the security systems of big banks like BBVA, working for the benefit of customers.
"That could easily be the future
Here's another scenario - again based on BBVA finding solutions to real issues. Our customers tell us that their biggest stress is money: their long-term finances, their budget, how they can afford a vacation, how they can stay organized and ahead of their bills, how they can afford to get their child their first computer or just pay school fees.
What if in the future customers could consciously and unconsciously trust their own digital financial 'advisor' to help with all of that stress.  This trust will deepen as they see value generated from their interaction with this advisor and equally as they interact more, the advisor will also learn and be able to do more.
So, imagine a self-driving, autonomous, financial life - a money-enabled life - with your personal financial advisor accessible wherever and whenever you want through your screen-based (mobiles, tablets) and voice enabled (like Echo or Google Home) technology. As well as doing the basics - the bank balances, checks on credit, advice on when to pay off debts - it could actively manage your finances. It could help you budget for the monthly bills - everything from food to insurance - and pay off the bills as they arrive in the most effective manner.
But that's just basics.  Even further, though, the evolving AI could constantly look out for your financial well-being, advising you of how you could better invest your pension pot to give you the retirement you want, that more is needed in your kid's college funds, that the new car savings plan you have is slightly behind but by changing to a different utility provider it will get back on track or that the X-amount of Euros you want stashed in a pot for birthday and other presents is being put aside. And it would do these things for you.
It's about giving our customers the power of BBVA's financial knowledge and technological tools to help them better manage their finances. But perhaps more important than that, it's about giving  people back some time - time that can be used to do anything else than worry about money!
These are just a few of the technology-driven ideas we are looking at - but our focus remains the same. We are doing this because we understand it will add value for our customers and clients – either financially, time-wise or through peace of mind - and ultimately it will create opportunities for people and improve their banking experience. Keep watching this space.