Senior executives from BBVA got the chance to meet with some of the USA's most innovative and forward thinking financial technology businesses this week at the first tech summit hosted by BBVA-backed venture capital firm Propel Venture Partners.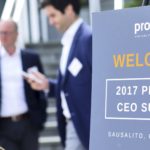 The event, in Sausalito in the San Francisco Bay Area, of California, saw more than a dozen of the brightest and best technology companies, all of whom are working with Propel on shaping the future of banking, outline their solutions to problems facing both consumers and businesses alike.
The summit also saw discussions around the challenges and opportunities startups face when working with large corporations like BBVA, and the role venture capital firms can play in securing the high-growth rate these businesses seek to achieve.
Among those attending the first annual Propel Venture Partners CEO Summit were BBVA CEO Carlos Torres Vila, Global Head of Customer Solutions Derek White, and Global Head of Talent and Culture Ricardo Forcano. BBVA's Global Head of Strategy and M&A, Javier Rodríquez Soler and Ricardo Gómez Barredo, Global Head of Accounting and Supervisors, added additional seniority to the BBVA attendees.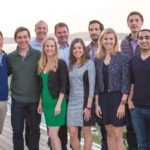 BBVA CEO Carlos Torres Vila and Propel Venture Partners team. - Pierce Larick
Among the fintech bosses there were those of DocuSign - a global leader in digital transaction management software, Coinbase, a leading digital platform used to buy, sell and trade Bitcoin and Kasisto – an AI platform that powers virtual assistants and smart bots for mobile, messaging, and wearables. Also represented were Earnest, Civic, Drive Motors, Brave, Guideline Technologies, Hippo, Hixme, Insikt, Personal Capital, Prosper and Taulia.
A key theme of the summit was to examine the trends and technological developments which those who attended are spearheading – and the convergence taking place across technologies ranging from artificial intelligence to blockchain and computer vision to big data analytics.
For example, the fast developments taking place in the world of artificial intelligence that will mean customers will see their money – and more importantly their data – work harder for them with the support of AI-enabled advisors who can track everything from investment opportunities to interest rates and act on people's behalf to help them meet their life goals.
Another area seeing fast growth is the insurtech space – with several of the companies explaining how their technology allows for customer-centric, tailored insurance solutions that actively work to protect their clients' interests. For example, by using big data sources to work out the likelihood of events happening to an individual client's property, or by using satellite imagery to check on the condition of a person's house so, for example, the roof replacement element of home insurance is more accurate – driving down costs and improving risk assessments.
It is hoped these and many more developments will end up in the hands of BBVA's customers and clients in the near future, as the bank continues its push to bring the latest in digital financial technology to businesses and consumers across the world
Addressing the summit, BBVA CEO Carlos Torres Vila, said: "The reason why we are making such a commitment, $250m to start with in Propel, is that we want to change the world ourselves in our own domain – in the banking industry.
"We have a vision to transform the banking industry, and where we see the industry going is that technology is opening up tremendous opportunities to do things differently – not just in the interaction side, and to make it super-easy for people to do things with us, but with areas like open data and how, for example, open data together with AI can allow us to transform the lives of our customers, and the businesses of our clients, and together to create amazing opportunities.
"Investing in Propel Venture Partners, and through them investing in those high-growth businesses here today, allows us to have exposure to the innovation that is coming from outside our industry and with the entrepreneurs that are re-thinking what can be possible, and we want to embrace that innovation – we want to learn – and I think that for us is a really important opportunity."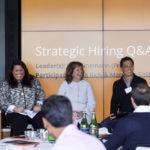 Margaret Smith and Jana Smith from Rich Talent Group, with Jay Reinemann. - Pierce Larick
Propel partner Jay Reinemann, said: "It was a privilege to have some of the leading fintech businesses in the world with us, alongside our team at Propel and senior management from BBVA. It was a unique opportunity to have all these people in the room to talk through the challenges high-growth businesses have when it comes to working with big global businesses like BBVA, and for them to learn and understand each other better.
"As technologies converge, and as competition moves towards coopetition and mutual gains, this process of sharing, talking and working together becomes ever more important, and ultimately will lead to technologies being delivered faster to consumers and businesses alike."
Propel Venture Partners was launched in February 2016 with a brief to support and profit from the change in financial services brought about by technology.