Garanti BBVA shares its approach to technology with Women in Technology
Garanti BBVA Executive Vice President Didem Dinçer Başer joined the Women in Technology (Wtech) Association at their inaugural event, 'Human Diversity in Technology.' The Wtech Association aims to increase the number of women in technology by helping them fulfill their potential and advocating for equal opportunities. Didem Dinçer Başer participated in a panel entitled 'Future with Technology' where she discussed the future of digital banking and ever-changing customer expectations.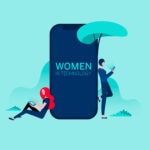 The Garanti BBVA executive detailed how banking and finance is changing. She particularly stressed the influential role of technology and its capacity to change the way people do business, thus feeding into evolving customer expectations.
She explained that in the past banks were seen as places where people could go to safely keep their cash and occasionally borrow money. This perception has changed significantly as the kinds of information, transactions, and products accessible to customers over a myriad of channels — at branches, online, or over mobile applications — has grown, enabling customers to do their banking and manage their finances anytime, anywhere.
While customers have grown accustomed to banks launching new features to help them with their financing needs, they also expect day-to-day assistance: customers expect banks to provide the products and advice that will help them manage their financial health apropos to their stage of life. Consequently, it is essential that banks position themselves as trusted advisors who can provide the products and services that guarantee solid financial health and are able to alert customers to financial risks, like a potential overdraft, for example.
The Garanti BBVA executive vice president stressed that in the modern banking context, it is critical that all products and customer transactions are accessible across every channel, especially digital channels; and that those channels provide a holistic and positive customer experience. Currently, using digital devices, Garanti BBVA customers can manage 99 percent of all transactions and products without the hands-on assistance from the bank. Didem Dinçer Başer explained that the bank's goal is to push this figure up to 100 percent.
Everything we do is dedicated to improving our customer's financial health
According to the bank's executive vice president, technology is helping customers overcome numerous daily inconveniences. For example, customers who do not want to worry about remembering yet another password can use the biometric security functionality built into their phones to access their accounts through the mobile banking application. The bank has also enabled a Quick Response (QR) code feature that lets customers leave their bank cards at home and use their phones to make ATM withdrawals. Twenty percent of withdrawals from Garanti BBVA ATMs use the QR code functionality. The transaction time for cardless cash withdrawals has dropped from 45 seconds per transaction to 18 seconds. Consequently, even customers who have their cards on hand are opting for the QR code feature. Istanbul Kart provides yet another example of technology-driven convenience delivered by the bank. With this new feature the bank has made it even easier for customers to top up their Istanbul travel cards.
Didem Dinçer Başer concluded by reiterating that Garanti BBVA focuses on adding value to its customers' lives "because our customers come first. Everything we do — the data that we use and technology that we implement — is dedicated to improving our customer's short and long term financial health."