Garanti Bankası A.Ş., announced its financial statements on December 31, 2020. Based on the consolidated financials, in 2020, the bank's net income recorded was TL 6 billion 385 million 163 thousand. Asset size realized at TL 540 billion 912 million 805 thousand and the bank's contribution to the economy through performing cash and non-cash loans reached TL 415 billion 799 million 688 thousand.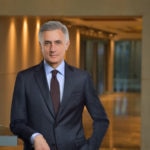 Actively managing the funding base, deposits continued to be the main funding source; 66 percent of assets are funded via deposits. Customer deposit base reached TL 356 billion 746 million 593 thousand with 30 percent growth in the year. Preserving the strong capital stance, the Bank's consolidated capital adequacy ratio was realized at 16.9 percent. The bank delivered a ROAE (Return on Average Equity) of 11 percent and an ROAA (Return on Average Assets) of 1.3 percent.
Commenting on the topic, Garanti BBVA CEO Recep Baştuğ stated that: "In 2020, our primary focus was the health of our employees and our customers. Despite the exceptional dynamics and challenges, at Garanti BBVA, we successfully completed the year in terms of both our financial targets and strategic performance indicators."
Under extraordinary conditions that the bank had never experienced until today, it delivered a significant loan growth driven by both business and the retail side. The bank ended the year with a TL loan growth exceeding 33 percent. Particularly with the 40 percent growth recorded in TL business loans, it left a mark on the year. The bank has once again demonstrated that even under extraordinary conditions, it can expand together with the real sector.
On the funding side, the bank maintained its broad base deposit-driven focus. With the confidence of its customers, it completed the year with 26 percent growth in TL deposits. Within the framework of the foreign borrowing program, it renewed its syndicated loan from international markets. With its strong capital and high liquidity level, it will continue to contribute to the financing of foreign trade and provide support to companies in its country and in international competition.
We will continue to work to meet our customers' needs
While focusing on growth, the bank will maintain a cautious approach on asset quality. It has the highest coverage in the sector, and for the risks that may be revealed in 2021, it has taken its measures today.
"In the upcoming period, we will continue to work to meet our customers' needs and demands in the best way possible with the aim of becoming their reliable financial partner. In this economic recovery environment, our growth policy will continue in line with the goals of sustainable growth of our economy and expansion on a healthy and solid base,"added  Baştuğ.
Digital Transformation
Stating that the biggest gain of the pandemic process is digitalization, Baştuğ said; "We are leaving behind a year with a rapid increase in digital banking awareness, digital customers and transactions."
Today, the bank has 9.6 million customers utilizing its digital channels. Once again, the importance of the investments it did in this field over the years are proven. For the last 25 years, the bank has invested in digitalization and has continued to provide its customers with an uninterrupted and high quality service across all channels. Garanti BBVA will continue to lead the sector by supporting digital transformation with the right strategy and right tools.
Sustainability
Another area in which it stood out globally this year was sustainability. Garanti BBVA has been contributing to sustainable development for more than 15 years. In 2020, it became the first in the world to link sustainability criteria to a renewed syndicated loan. Thus, it took its environmental commitments one step further. On the customer side, it broke many firsts in loan structures. "We actively use many financing mechanisms such as Green Loan, Gender Equality Loan and Sustainability Related Loan structures to encourage our customers to be more sustainable and greener in their way of doing business", said Bastug.
The bank provided approximately TL 40 billion in the context of sustainable finance. "We will continue to lead the transformation of the real sector to support Turkey's transition to a low carbon economy and achieve its Sustainable Development Goals. I would like to thank all my colleagues and all our stakeholders who trust and support us," Garanti BBVA CEO stated.
Highlights from Garanti BBVA's Consolidated Financials
Return on Average Assets (ROAA) reached 1.31%.
Return on Average Equity (ROAE) reached 11%.
Contribution to the economy through cash and non-cash loans reached TL 415 billion 799 million 688 thousand.
Total cash loans, TL loans and FC loans market shares realized at 9.6%, 9.6% and 9.6%, respectively.
Total customer deposits grew by 30% annually and deposits market share realized at 10.2%.
Demand deposits' share in total deposits reached 43.6%.
CAR (Capital Adequacy Ratio) realized at 16.9% well-above minimum required regulatory limit of 12.1%.
NPL ratio realized at 4.5%.