We've reached the end of the season. It has been a long and demanding summer, so it was great to get the chance to spend almost two weeks at home. First, to get some much needed rest. I had been traveling for more than two months and wanted to sleep in my bed. That's a long time to be away, with long trips, heat and hotels.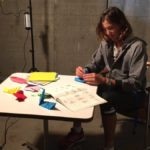 We enjoy this lifestyle, otherwise it would be impossible to travel so much. We are a kind of nomad, but I have been doing it since I was little, so it's not a sacrifice for me. People often ask me if I miss having a "normal" life and the truth is, I don't. This is my normal life.
I don't regret dedicating my life to tennis because it was my choice. I do it because it's what I like and I know I am fortunate to do so. Since I was little I have been able to enjoy the same things as other girls my age. The difference is that I enjoyed spending my weekends competing. That's what I have always liked to do: compete. So after a few days at home, I am already anxious to get on a plane.
I don't regret dedicating my life to tennis
I took advantage of the time at home to work both on the court and in the gym. One of an athlete's goals is always to avoid injuries. That's why physical preparation is so important. I don't really mind. We make it enjoyable by changing up our routine. That makes it more fun – and we always play good music to set the pace. You know I can't live without music.
Garbiñe Muguruza training - @GarbiMuguruza
We are working on strengthening the entire body, become even more powerful. It's not easy because you know a tennis player's agenda does not leave much free time. You have to combine preparation and maintenance with competition and that's hard. So as soon as we have a few days between tournaments we use the time to get in some harder training sessions.
I also took advantage of the opportunity to visit Rolex's headquarters in Geneva. I was surprised how much work goes into each piece… like all the work athletes do behind the scenes - that everyday work that is so important to any discipline. Everything requires thorough, high-quality and serious work. There are no shortcuts if you want to be the best.
So last Wednesday we left for Tokyo, which is where I am now. I will start playing on Wednesday. After this tournament, I'll go to the Wuhan and Beijing tournaments in China. We'll see!
Garbiñe