The life of a tennis player can be quite hectic. And that's one thing that is both good and bad about it. When you're struggling, you know that in just one week's time, you'll get another chance to pick yourself up. When things are going your way, you hardly have time to stop and celebrate.  But this time, I did want to savor every moment, because otherwise, it all slips by so quickly.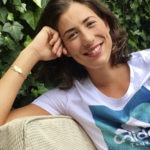 After the victory at Wimbledon, I still had a lot of work to do. Winning at an event such as this means you have to spend a lot of time talking to the media after the match. I did 29 interviews right after the final... 29! With all sorts of media outlets from a broad range of countries. That's when you realize how global our sport is.  That same night I shared a quiet dinner with my people at 'Cambio de Tercio', a Spanish restaurant where we are always treated very nicely. 'Cambio de Tercio' is a place that all Spanish players love going to at least once while in London.
On Sunday morning, I still had to do another round of interviews with the Spanish press and a couple of TV stations. And after that, we were off to 'Harrods' to look for a dress for the Wimbledon Champions Dinner. Everything went perfect. The only thing is that, after the dinner, there was no dancing... Traditions...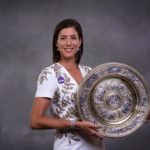 Garbiñe Muguruza with Wimbledon trophy - EFE
Last week I was able to take some time off, visit with my parents and brother, and chill out a bit. But that's over now. I still have basically half of the season ahead of me and I'm really looking forward to it. I didn't want to change my calendar despite winning at Wimbledon. So, I'm sticking to my plan to play three tournaments before the US Open. I 'll start next week at Stanford – my first game is on Wednesday, I think – and then Toronto and Cincinnati before heading to New York for the last Grand Slam of the year.
I'm pretty excited about this year's North American hard court session. It's true that the past two years I struggled playing there, but I'm ready to take on the challenge with a positive mindset and give my best, like I've been doing all year long.
I really want to thank you all for your support and the kind messages I've been - and am still – getting these days. It's really great to be able to reach out to so many people, seeing that hard work and dedication pay off.
I started training hard again on Sunday, combining on-court training with workouts at the gym. I can't wait to see what the rest of the summer will bring. Let's go!
Garbiñe