It's hard to believe we're already in Miami. It's all happening too quickly… We left Indian Wells and arrived on Friday and yesterday I had my first contact with Miami's courts.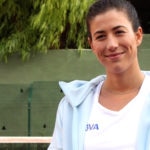 It's actually good to arrive early because the playing conditions in Indian Wells and Miami are very different. It is sunny and hot in both places, but it's very different. In California it's much hotter (some days we played at 33°C) and it's a very dry heat. You barely sweat but it feels like the sun is burning your skin. You're thirsty all the time because of the heat, and because there's a little bit of altitude the ball flies!!
Meanwhile in Miami the humidity is a factor to keep in mind. It hasn't been too bad the past two days since we arrived, but it can change at any time. So far, it's very nice.
I like both of these tournaments a lot. We decided to stay at a house in Indian Wells this year. I really liked the experience. Everything in Indian Wells is very peaceful. There are no traffic jams or stressed-out people…  everything is done at a relaxed pace and you can really feel the difference. And you've already heard me say it many times, but the tournament's facilities for players are perfect. We had a car and went wherever we wanted. There are no problems getting courts to practice, so our needs were met. I'm obviously not satisfied because I always want to win, but considering the conditions in which I arrived it was a good tournament with tough games where I fought hard. Little by little I'm finding my game and I know we're on the right track.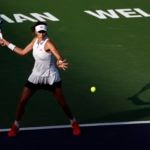 Garbiñe Muguruza in Indian Wells - EFE
But that's in the past and now I have to concentrate on the Miami Open. We're here at the JW Marquis Hotel downtown and it's very different. The weekend was pretty calm, but there was traffic this morning. It gets much better after Brickell Avenue and the bridge to Key Biscayne though. I think that they're prettiest hotel-club on the circuit. Here we have to be a bit more flexible since there aren't as many practice courts at the club, so we have to go to different facilities in the Keys if we want to practice more than an hour, which is what we get at the headquarters. But we can't complain because the alternatives are always beautiful courts surrounded by lush, tropical plans in public parks, country clubs or swimming clubs.
I won't play until Thursday or Friday so we have some time to work, recover, talk to the press and do some things for sponsors. For example, I picked up my adidas clothes yesterday and got to see what I'll be wearing the first six months of 2018… that's planning in advance! I met the team of designers and we were able to suggest some minor adjustments to make the clothing more comfortable for competition.
Warm greetings to everyone. Have a great week. We'll keep you updated.
Kisses. Garbiñe