I'm writing from Ostrava, where we'll be playing against the Czech Republic in the first round of the Fed Cup. It is always a pleasure to get Conchita Martínez's call and have the opportunity to represent Spain and spend a week with the team. It is quite different from the everyday grind at the circuit, the vibe is great and I really love it. We spend a lot of time together and we all feel part of something important.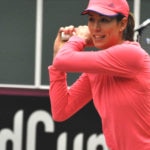 The qualifying round is going to be extremely hard. We're the visiting team and they are very tough to beat… not surprisingly, because they are the defending champions. It was great to play last year in Lerida with the backing from our home crowd. I don't think it will be like that at all here… hahah. But you know, I love to play in front of huge crowds and with a great atmosphere, even if it's against us. But one thing is sure: we're here to fight and do our best. Games need to be played, you never know what can happen until the last point is played. But one thing's for sure, we're going to put up a good fight. Unlike the boys in the Davis cup, we will be playing Saturday and Sunday. We will play two single matches on Saturday, two more on Sunday and if there's a tie, we will play a doubles match.
Garbiñe Muguruza in the gym preparing FedCup matches - BBVA
Monday morning I'll take off for Doha to resume my outdoor hard-court season. I was able to rest a bit after the Australian tour and work a bit more on some things at the gym. I'm happing with how things turned out for me at Brisbane and Melbourne. It was a way good way to start the year. I feel physically fit and am ready to compete again.
After the Fed Cup, I'm looking forward to being back at the four wonderful tournaments I will be playing in February and March: Doha, Dubai, Indian Wells and Miami. I know that what's important is to be consistent. Each round counts towards having a good season. So, it is still very soon, whether I like or not, to know whether I'll classify to play in Singapore, which is a goal that's always there. And being more solid in my results, starting now, will help make that objective more feasible at the end of the season. So that's where my head's at right now. My priority is to stay fit and start every tournament at the top of my game. From then on, anything can happen. Ok, we're off to train. Thank you all for your support messages. They help me stay positive and motivated. Kisses,
Garbiñe