Just a little time left before the competition starts and it feels like yesterday that we were at this small housing complex in Wimbledon, last year. We're barely at a ten-minute walk from the training courts, and that's just wonderful.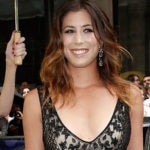 Sunday was nice and quiet. I trained in the morning and then… I just stayed in and relaxed for the rest of the day.  We had a nice meal. We cooked lentils with some of the leftover potatoes from Saturday night's barbeque, and carrots. We were lucky to enjoy a sunny spell, and had lunch at the stone table in our terraced house's small backyard.
I love staying in the house, because that way we can cook and take things easy, avoiding London's crazy traffic. You know I like to cook, especially desserts, so that way I can practice my baking. I can improvise because we have a small supermarket just 5 minutes walking away. I've already tried a couple of desserts. The custard came out nice, but I'm still having a hard time with the oven and the two Oreo cakes I've tried baking were not perfect 😉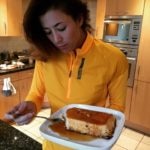 We've been here since Tuesday evening. I've been able to train comfortably and do some other stuff. I went to Rhianna's concert the other day. It was the first time that I've seen her live and I had a blast. She played at Wembley and it was wonderful. I knew all the lyrics.
I also had to attend another WTA Gala and had a couple of appointments with the press for the tournament.  I did a photo shoot and an interview for the US edition of Vogue, which will come out after summer. I also had some time to drop by the Adidas home here, from where they will be providing me with all the clothes I will be using during the tournament, the Olympic Games and during the tournaments I'll play before the US Open, Canada & Cincinnati.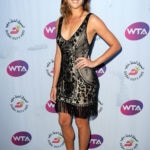 Garbiñe Muguruza at WTA Party in London - GETTY IMAGES | WTA
Tomorrow I'll be back at the All-England Club's center court. I have great memories of the court and everything that went on there last year, but that doesn't count anymore. Tomorrow we all start from scratch, a new tournament and a new opportunity. Let's see what happens 🙂
Hugs and kisses, Garbiñe