Rut Pelaiza has spent her entire life as an example: for her parents, for her daughters, and since five years ago, for the thousands of women in the Palabra de Mujer [Woman's Word] program run by the Peruvian institution of the BBVA Microfinance Foundation. She recalls that she always wanted to be independent and with pride, shares how she managed to achieve this goal when she grew up.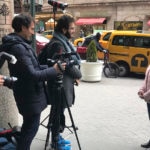 And it wasn't easy. A difficult marriage put her fortitude to the test. With her self-esteem in shambles she challenged her destiny, and triumphed over everyone who underestimated her along the way. Rut maintains that Peruvian women have that strength in their genes: "We are determined: we achieve everything we set our minds on because our first reason for living is our children."
This is what she said at the largest UN event on women's empowerment. Every year, the world's leading experts on the topic gather at the UN headquarters for the event.  A place so emblematic for the world, and from now on, unforgettable for Rut.
At a BBVA Microfinance Foundation event, this woman spoke on behalf of the millions of women using their small businesses to fight for greater equality, making progress despite the adversities, lack of opportunities and the barriers. Her speech magically conveyed her story through María, Teresa and Josefa – the three dolls Rut uses to teach financial education – finding their place among the audience and for a moment, transferring them to the Peruvian countryside.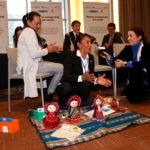 Rut Pelaiza during at BBVA Microfinance Foundation event at the UN
Rut managed to put a grain of her truth in the audience's imagination. The dolls are how she tells a story that only has one possible ending: savings cannot be under a mattress or inside an old can of "Gloria" milk. They belong in a financial institution like the one where she works.
There, one afternoon of the many that fill the rooms of the UN, Rut got what she wanted. An indelible memory of her time in New York to discuss what she knows best: helping other women who,  like herself, have had a life full of obstacles, and who also like Rut, have gotten used to navigating them.
With her suitcase full of admiration, respect and affection, this relentless woman is going home with her daughters to continue giving them a better future and encouraging them to achieve what they want most in life. For her oldest daughter, that's becoming a systems engineer; her middle daughter wants to be a police officer and her youngest, time will tell.  Her greatest motivation is to dream big and work hard to overcome all the difficulties, following her mother's example, knowing that it isn't easy to become Rut Pelaiza... Palabra de Mujer.