Digitization means more closely connected and satisfied customers
BBVA's commitment to technology has translated into an increase in the number of digital customers, which now represent more than 50% of the bank's total customers, as well as climbing digital sales, now comprising 41% of all sales. But this digital journey means much more. Digitization has also contributed to greater customer satisfaction and a diminishing drop-out rate - 47% lower among digital customers.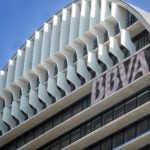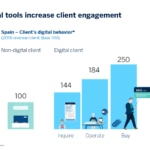 At the 2018 results presentation, BBVA Group Executive Chairman Carlos Torres Vila explained several concrete examples that illustrate this trend. Click and Pay, is one of them. As a result of this service, which is available in Spain, 61% of corporate loans were taken out over digital channels in 2018. In the U.S., sales volume for cards rose 184% between December 2017 and 2018, boosting the total value by 89%. And 92% of those requesting a card over digital channels are new customers.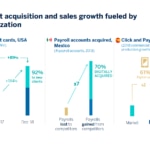 These digital customers are not only more closely connected to BBVA, they're also more satisfied. In fact, the bank ranks first in the customer Net Promoter Score in six of the countries where BBVA operates (Spain, Mexico, Turkey, Peru, Uruguay and Paraguay). Digitization also lowers customer drop-out rates, which is 47% less among digital customers.
An excellent trend for digital sales and digital customers
All of this is reflected in two main trends: rising digital customers and digital sales. BBVA's sales on these channels represent 41% of the total, according to the figures from December 2018. Two years ago this number was just 16%. This trend can be observed across all of the markets where BBVA has a presence.
In Spain, 45% of sales take place on digital channels, compared to 17% in 2016. In the U.S., digital sales rose from 20% in December 2016 to 25% last year. In Mexico, the numbers have more than tripled, from 11% in 2016 to nearly 37% in 2018, and in Turkey they jumped from 25% to 45%.
In South America, the increase is even more astounding: digital sales represented 54% of the total, as of December 2018, compared to 11% in December 2016.
Furthermore, more than half of BBVA's customers are digital customers, meeting the target the bank had set for itself. At the end of the year, there were 27.2 million digital customers - 51% of the total - with a year-on-year growth rate of 20%. Meanwhile, 23 million customers do their banking on mobile phones, a year-on-year growth rate of 29%. BBVA's goal is for mobile customers to surpass 50% in 2019.