Israel Pons is betting on 'business angels' for launching businesses.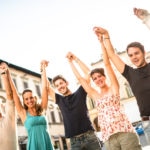 Israel Pons, CEO of Angels de México, has pointed out that an ecosystem depends on its solid foundations: the incubators have to carry out projects that in their opinion can bring a return to their investment, grow and run for a minimum of three years. The government has the means for reaching out to the nation and to the ecosystem to implement programs that have an impact. And he doesn't forget about the 'business angels', that he considers vital to ensuring the success of the projects.
"There can be no venture capital ecosystem without 'angels'. Over the last three years, the ecosystem has not grown because apart from the incubators, accelerators and venture capital funds, there is no system of 'angels' with a responsibility to accompany the startups by offering value and that take care of other matters so the entrepreneur can focus on growing the business.  In this way more companies will survive, which will generate a market, and the venture capital funds will be able to enter this market", said Pons.
"Entrepreneurs must know that there are no original ideas, that no one will steal their project, and that they need a mentor and have to pay for it. They can't survive because in the ecosystem mentoring is free. That's not real help. Entrepreneurs have to sell a percentage of their project or of the company. Attracting valuable people who say how things should be done or who enable the entrepreneur to focus on growing the business", he added.
On the situation of entrepreneurship in Mexico, Pons said that the country needs to mature in this aspect, "not much is needed to be successful, just analyze the market and discover where the opportunity is. In other countries, competition is stronger. Mexico is at the first stages If you're an entrepreneur that knows about innovation and implementing, if you know your place as an entrepreneur and you have sales, there is a very big opportunity", he concluded.