A quick look at the projects of some of Europe's brightest millennial entrepreneurs
Under 30, entrepreneurs and digital. This are the common traits that define the young Europeans chosen by Forbes magazine in its '30 Under 30' list. A mobile navigation aide for the visually impaired, a meal kit delivery platform, a t-shirt that allows users to peek inside the human body, a nightlife finder in London... Many tech-related projects that deserve special attention.  Here we take a look at a few of them.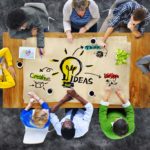 It's not about delivering cooked meals, but offering a new way of cooking. This is the essence of HelloFresh, a Berlin-based company that presents itself as a "global provider of fresh food at home." Customers get meal kits, including detailed step-by-step recipes along with the ingredients they need to cook them.
HelloFresh's business model has solidified since the company was founded in December 2011. Today, the company today delivers about 9 million meal kits per month, grows at solid and consistent rates both in Europe and North America and is worth an estimated $2.9 billion.
Edward Boyes, HelloFresh cofounder and current CEO for the company's U.S. operations, is one of the names that appears in Forbes' 30 Under 30 list. Boyes is 27 but he started his professional career at a very young age. "I was a keen sportsman as a teenager growing up, and then had a couple of terrible injuries. And those terrible injuries led me to put my competitive intensity into entrepreneurial endeavors and started a couple of businesses at age sixteen that were completely unsuccessful. But really gave me the entrepreneurial bug. I learned at a very young age how to start a business from scratch," says Edward in a video interview for the publication.
One year his junior, Anna Frankowska has also made her way into the Forbes list. At 26, she is the founder of Party Hype, now Nightset, a platform that helps users find the best parties and clubs in London. "The idea is not to show cheesy, perfect photographs of empty venues, but real pictures and video of what's happening, from the people in the club," says Frankowska in The Memo, a digital publication focusing on the future and technology.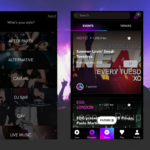 Screenshot of Nightset's app for iOS - In-house
Poland's Petros Psyllos is even younger. At 22, this Bialystok Technology University computer science student has managed to make it to both Forbes' '30 under 30' and the MIT Technology Review's 'Innovators under 35' lists thanks to its MATIA, a wearable device that, connected to a tablet or smartphone, describes the user's surroundings with words and music. With 14 sensors, MATIA is able to analyze over 1,000 objects in real-time, forwarding the data it collects to the smartphone to describe the characteristics and location of the obstacles in front of the user.
"A blind friend once told me that combined, all the things he had to carry about to navigate his way, such as a text reader or his walking cane, weighed about 15.5 pounds," says Petros for Vodafone One. That's when he got the idea of creating something to help the visually impaired, integrating all these devices into a single one.
Like artificial intelligence, virtual reality has also claimed a few spots in the innovator list. Ed Barton, 27, is one of the cofounders of Curiscope. This London-based startup specializing in virtual reality applied to education has launched Virtuali-Tee a smart t-shirt that you wear. A related app on a smartphone, Tablet or VR headset then replaces the wearer's t-shirt with working organs on the screen.
Sandra Rey, 26, is Glowee's CEO. Glowee is a French startup that has developed an illumination system that uses bacteria to generate power. The idea emerged after the company founders watched a documentary about bioluminescent oceanic organisms. The company then started researching ways in which to use the bacteria living in symbiosis with squids, to offer an eco-friendly alternative for illuminating different spaces and premises.
Although so far, Glowee's products only deliver three days of lighting, the new technology brings significant benefits. It doesn't require cables, nor electricity, reducing pollution. And, according to online scientific website CienciaToday, it is 100% customizable in shape and extension. Also, being a less intense light, it helps curb light pollution issues.
'Made in Spain'
Forbes' tech innovation list also includes some Spanish names. Arantxa Unda (29) left behind her financial studies in London and New York to take over Sigesa, a modest technology business specializing in the development and implementation of healthcare management software, founded by his father. Today the company employs 24 workers, and provides service to about 400 customers in Spain, Portugal and South America.
The Forbes list also includes other Spanish projects. Pablo Vidarte, Alexandre Díaz and Javier Rodríguez, still in their early 20s, are the masterminds behind Bioo, a startup that is developing a plant-pot system to generate electricity from photosynthesis. Óscar Pierre has earned his spot in Forbes' list thanks to Glovo, an online product sale 'app', offering a service similar to JustEat's, but offering deliveries of many more products than just food. Finally, Alex Sicart, at 17 one of the youngest entrepreneurs in Forbes' list, is one of the founders of Sharge, a company that aims to allow electric car owners to share their cars' power. Miriam Rueda, 29, has designed a high-capacity hydrogen battery to increase the flight-time of drones.