BBVA Momentum 2019 is the first social entrepreneurship program run by a financial institution in Turkey. Those interested in participating can apply from April 8th through May 6th.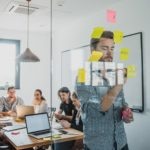 Entrepreneurship is a priority for Garanti Bank, and the bank carries out a number of activities in this area. It was therefore a natural fit for Garanti Bank to organize Turkey's BBVA Momentum program, which aims to support social enterprises that create innovative solutions for social issues in Turkey through sustainable business models. The program is now accepting applications for the upcoming period.
The BBVA Momentum Social Entrepreneurship Support Program is organized in partnership with Impact Hub Istanbul, with simultaneous programs taking place in the U.S., Mexico and Colombia. The program run by Garanti Bank will provide eligible entrepreneurs one-on-one mentoring and expert support, as well as training sessions tailored to their needs. Additionally, entrepreneurs who participate in this program will have the opportunity to share their experiences and collaborate internationally with fellow entrepreneurs, working across a range of sectors.
Applications for the 3rd BBVA Momentum Social Entrepreneurship Support Program will be open until May 6th.
For more information about the BBVA Momentum Social Entrepreneurship Support Program, visit: https://www.momentum.bbva.com/en/.