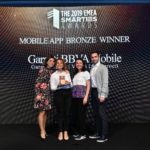 Three of Garanti BBVA's products were recognized at the 2019 Smarties Turkey, where they won bronze awards. First, the bank's playable ads advertising model for its product 'e-Time Deposit' won an award in the Mobile Gaming, Gamification and E-Sports category. The model was developed in cooperation with Mindshare Turkey.
Garanti BBVA also won awards in the Lead Generation/Direct Response/Conversions category for its SME Dashboard app, and in the Mobile App category for its mobile banking app.
The bank's SME Dashboard app boasts a brand new user experience, while the mobile banking app and Internet banking services have been customized to meet users' financial needs. The bank built homepages that are specifically designed to meet the product and banking needs of professionals and SMEs on both apps. For example, customers can view their financial status in a single glance and see their cash flows by selecting the incoming and outgoing tabs. Users can also easily get detailed information about products that are important for their businesses (such as POS terminals, checks and credit cards), check their receivables and manage their cash flow.