Garanti BBVA Mobile: in the top two in Europe for the second year running, according to Forrester Research
Garanti BBVA is leading the creation of value for its customers by delivering innovative products and services to the digital banking sector. Its mobile app Garanti BBVA Mobile was ranked the second best in Europe for the second year in a row by Forrester Research, one of the world's leading research and consulting companies.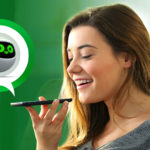 In its report 'The Forrester Banking Wave: European Mobile Apps Q2 2019' Forrester evaluated the applications of Europe's ten leading banks. Garanti BBVA and BBVA occupied the two top spots.  The BBVA app scored 92 out of 100, placing it in the top spot. The average for the 10 banking apps surveyed was 72 points.
Garanti BBVA's Mobile app scored 100/100 in the areas of content, login, and security warnings, as well as in money movement.
Along with its range of available transactions and constantly enhanced functionality, the Garanti BBVA application "combines clear content layout with friendly copywriting" and "provides helpful navigation within customers' past transactions: It clearly displays which category and time frame is displayed and lets customers quickly change those filters without going to a different view". A stories feature will soon be integrated into Garanti BBVA Mobile, giving users access to a rich variety of video and image content designed to make their lives easier. In addition, the search function is visible and accessible everywhere in the application, allowing users to easily find what they are looking for.
The functionality in the Garanti BBVA mobile app clearly demonstrates the significant effort that has gone into providing an exceptional user experience, from ease of logging in to the enhanced security features that send appropriate notifications.
Some of the most innovative features of Garanti BBVA Mobile include the implementation of services such as being able to transfer money using a QR code and simplified steps to make the most-used functionality – such as making transfers and payments – quicker and easier.
Throughout the Garanti BBVA Mobile experience users have easy access to self-service features like help, FAQs, and the search function. The app also allows users to easily change their personal details and notification preferences.
Selected as 'Europe's Second Best Bank' the Garanti BBVA mobile app even offers voice control with its AI Assistant, Ugi.