Money 2020 Europe is the biggest conference on the continent focused on the future of banking, money and financial services. Over the course of three days in Amsterdam, around 10,000 business leaders, entrepreneurs, start-ups, press and potential customers will be sharing and debating the trends likely to shape the future of the sector.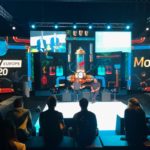 Those descending on Nederland ́s biggest city will also be showcasing the latest in technological innovations from biometric security devices to cutting edge artificial intelligence and much much more.
But while the range of technology on show is impressive, when it comes to hot topics the word on everyone's lips this year is data, data, data.
It's easy to see why as the banking sector shifts from transactional based technology, to increasingly advisory focused, supporting people to make the right decisions with their money, as well as finding ways to invest and lend it.
For example, one of the key sessions on day one of the event was around data driven AI and whether the financial services sector is using this technology in the right way.
Speaking on behalf of BBVA, albeit remotely after illness prevent her travelling, was the bank's Global Head of Open Innovation and Data, Elena Alfaro.
For Alfaro, the key thing about AI is really the quality of data sets that you can work with, because as she outlined, the better the data, the easier it is to negate issues around bias, unfairness, interpretability.
It was a view shared by Devika Daga, director of global partnerships at Elements, who agreed, saying how for them, they try to use as many different data sets as they can to precisely avoid the risk of bias.
Turning to the future of the technology, each of the panellists was asked where they saw AI having the greatest impact in five to ten years.
For Daga the goal for AI should be self-supervised learning. She said: "That's the dream, what it means is having a computer observe the world and learn like a baby does, learning by observing and taking views." She added that this could have a massive impact in reducing issues like bias, because without the human interjection in the learning process, the learning itself is done utterly objectively.
For Dror Oren, Chief Product Officer and Co-Founder of Kasisto, it was more a question of evolving the technology to add extra value to the customers - in much the same way the BBVA explains its aim as being to help customers make better decisions.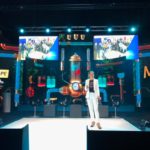 Ainhoa Campos BBVA Open Innovation lead in Money2020
He said that for Kasisto, who BBVA invests in through its Propel Venture Partners, the evolution for AI was about getting upstream for the customer. At the moment banking AI tools can tell you that you can't afford something, or that there is a chance you won't be able to afford something. But, he added, the shift comes when the systems can tell you 'why' you can't afford something, and / or suggest things you could do to change that status.
Part of that shift will undoubtedly happen within the banks themselves, with businesses like BBVA investing time and money into answering those questions. For BBVA it comes down to Smart Interactions, or how we interpret people's data - with their consent - to better understand the ways in which money is causing them stress and what we can do to help.
But in other areas it will be through the kinds of partnerships that BBVA Open Innovation and units like Propel build. One of those partnerships was also presenting on Monday at Money 2020, with a fireside chat between Propel Managing Partner Ryan Gilbert, and Plaid CEO Zach Perret.
Plaid, based in California, founded a technology platform that allows applications to connect with users bank accounts - enabling the wider fintech ecosystem to operate on behalf of consumers.
He told the audience how in the early days of the company, Plaid started out as an ecosystem enabler - its purpose being a connector - but banks pushed back hard, fearful Plaid's system would draw customers away from their own products.
He said: "At the start we focussed on being a neutral enabler of this ecosystem".
"At the early stages banks certainly questioned this concept of a consumer being allowed or able to interact with or use their own data. But this has changed - not all banks are bad now!"
He added that in the US there is no open banking, there is no PSD2, and so Plaid's early stages were about building great relationships with banking institutions, so that they could create a platform. But increasingly the shift - led in Europe by banks like BBVA - towards cooperation and the shift from closed to open, was changing things dramatically.
Open Talent
In many ways that was also BBVA's key message for the event, with BBVA Open Innovation lead Ainhoa Campo telling the audience that the BBVA Open Talent competition, the world's biggest fintech competition, had new reopened for the 11th year.
Outlining the competition's focus for 2019, and indeed the entire Open innovation strategy, Campo explained how the primary focus was finding the best external partners to work with, and connecting them in with the bank so they, and BBVA's customers could benefit from their solutions.
She added: "This year we have evolved the competition slightly - largely due to feedback from the world´s fintech community - but the aim remains the same: To find the best global fintech solutions, those disruptive ideas that are going to change the way people and businesses bank and handle money and data, and to shine a light on them and raise the profile of their brand. Simple really!"