New Launchpad Contest set to open, courtesy of BBVA Compass and the Houston Rockets
For the third consecutive year, the Houston Rockets and BBVA Compass will be rolling out their annual small business contest on February 19, beginning a new chapter in their focus to foster entrepreneurship.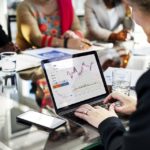 In a shift from the previous two installments, the contest will now focus on Houston-area start-up businesses that need a financial boost to become digitally innovative. The prize remains similar to past contests, with the top business winning a grand prize of $10,000 and consultations with Rockets and BBVA Compass executives.
We are excited to unveil this new version.
"BBVA Compass is in a unique position and we want to leverage that to help elevate entrepreneurship through digital capabilities," said BBVA Compass Houston CEO Mark Montgomery. "We are a leader in the financial industry's digital transformation, and have won multiple awards because of our innovative products and services in that realm. We want to create ample opportunities for a rising business through that industry-leading expertise. The Rockets are excellent teammates, and we are excited to unveil this new version of our collaborative contest with them."
In past years, the contest gave small business owners a chance to submit their entries, detailing the nature of their operations and what they would do with their winnings. This year, the contest criteria will include judging on how potential candidates would leverage the introduction of new technology to make their businesses more productive.
We look forward to reviewing our fans' contest submissions.
"We are excited to partner with BBVA again for this annual contest," said Rockets Chief Revenue Officer Gretchen Sheirr.  "They have been best in class in their industry with their digital strategy, so it's fantastic that they will be providing an opportunity for other businesses to thrive in this space. We look forward to reviewing our fans' contest submissions and seeing the great work being done by start-up businesses in our great city."
After the submission period ends on March 5, a judging period will commence between Rockets and BBVA Compass representatives. After four finalists are announced, fans will have a chance to vote on the winner in late March. The winner will be presented a check during a Rockets game in early April.
Companies are encouraged to submit their nominations online at www.rockets.com/launchpad when the submission period opens on February 19.
Entrepreneurial Opportunity of the Year
BBVA Compass has had a long history of helping small businesses in the Houston area and throughout its footprint. In addition to the Launchpad Contest, BBVA Compass is also currently teaming up with The Business Journals to present the Entrepreneurial Opportunity of the Year contest.
The campaign is being held in four markets and is giving entrepreneurs the chance to pitch their innovative business idea for a chance to win up to $60,000. For more information on the contest and how it works, click on any of the links below: