Path to digital transformation series: Pillar 3 - Redefine the operating model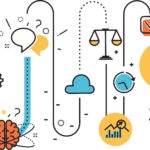 In this, part three of a four part series, we are taking a look at how BBVA Compass' digital transformation efforts mirror the four pillars BCG says banks should leverage to have success in digital transformation. In this article, we take a look at the pillar "Redefine the operating model."
Pillar No. 3: Redefine the operating model
Banking is not a static operation, particularly in the digital age. Instead, it exists on a spectrum of experiences across channels - both human and digital. This being the case, serving the customer seamlessly in whichever channel they choose to interact is key. Having an operating model that allows for quick delivery of products and services and the ability to adjust quickly to changing consumer preferences is needed. BCG indicates that collaboration with fintechs and incubators are one way to create an efficient operating model.
BBVA Compass
According to BBVA Compass Head of Business Development Pepe Olalla, the essence of digital transformation is about using technology to make customers' lives easier and support them in their financial journey. The bank's focus on mobile technology, for instance, is in large part due to recognizing that customers want to be able to conduct their finances across channels, both physical and digital. But, he says, this omnichannel approach is also why branches continue to be important in an increasingly digital world. The human touch is needed, and branches are where many customers adapt to and adopt digital services.
The bank is also adapting its operating model by reassessing the way it conceives, produces and delivers analog and digital products and services, all in the name of efficient delivery. Teams from units across the bank globally - technology and support - are adopting the agile methodology, a project management philosophy made popular in Silicon Valley for its quick production cycles. Around the world, including in the U.S., this new way of working has helped the bank cut production cycles to less than nine months for some products.
Finally, the bank is also focused on deeper and meaningful collaboration with fintech companies, which it carries out in a myriad of ways locally and globally, including supporting the fintech ecosystem via its competition dubbed the biggest fintech competition in the world, Open Talent, which seeks to find the most innovative solutions intending to transform the financial sector. The bank also invests in the ecosystem through its fintech venture capital fund and collaboration with Propel Venture Partners. Finally the bank, through its New Digital Business unit with offices in Madrid, San Francisco, Hong Kong and London, incubates fintech startups within its own walls, including Azlo, Covault, Denizen and more.
Tomorrow, we'll review BCG's fourth pillar in a successful digital transformation program: Build a digital driven organization
---
To read the first article, Pillar 1 - Reinvent the customer journey, click here.
To read the first article, Pillar 2 - Leverage the power of data, click here.