Path to digital transformation series: Pillar 1 - Reinvent the consumer journey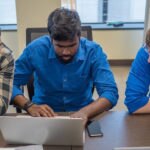 BBVA Global Chairman and CEO Francisco González has long espoused the impending transformation of the banking industry, envisioning a future for banks where they go from analog-based to  knowledge-based and are able to deliver products and services in a way more suited to customers' needs and expectations. Based on this vision, the bank has made digital transformation its strategic priority and has taken steps to execute its digital vision globally and locally.
BBVA Compass, the U.S. subsidiary of BBVA, has been carrying out the strategy locally, virtually since becoming BBVA Compass in 2009. In a series of four articles, we'll take a look at how BBVA Compass stacks up in its digital transformation efforts based on the four pillars BCG says banks should leverage in a successful digital transformation program, beginning with the first, reinvent the consumer journey.
Pillar No. 1: Reinvent the consumer journey
Here, BCG draws parallels with Amazon and Google to illustrate the type of experience customers expect from services in the digital age, saying that banks must present their own products and services in a similar manner, and with a focus on three areas - client centricity, innovative technology and end-to-end process optimization.
In client centricity, banks must put customers at the center of their process design, to ensure that they are delivering outstanding digital experiences across the spectrum of the experience. For innovative technology, BCG says banks should look to new technologies, like AI for instance, and jettison legacy infrastructure in favor of "modern data-centric tech platforms." In end-to-end process optimization, automation of processes will allow for standardization and streamlining of processes, which adds speed and eliminates waste.
BBVA Compass
BBVA Compass has been in the process of reinventing its customers' journey for a decade, this year hitting a milestone with the footprint-wide* launch of the fully digital BBVA Compass Express Personal Loan in March. The loan, which can be opened online or via mobile, is an end-to-end digital experience, featuring near instantaneous decisioning, and potential same day funding upon loan approval.
The launch of Express Personal Loan portends other digital products for the bank, built on similar rails. At  EPL's launch, Executive Director of Consumer Lending Shayan Khwaja stated that BBVA and BBVA Compass have been building global digital capabilities for many years, and are now in a position of strength with a strong digital foundation and years of partnering with and investing in fintechs that has provided a solid understanding of how to achieve excellent customer experiences.
BBVA Compass is similarly engaged in finding and implementing new technologies that streamline the customer journey. In fact, one of the technologies that was key for the bank to build a complete digital experience for consumers was the bank's updated core platform, a technology that launched in 2013 after more than three years of development and $360 million. The new platform, which helped BBVA Compass garner Celent's Model Bank of the Year award in 2013, replaces the bank's legacy core with one that puts the customer in control by providing real-time banking and greater transparency of account information.
Olalla: With a powerful mobile banking app, we can serve millions of customers, which is why having one of the best in the market will always be our goal.
BBVA Compass has also emphasized its award-winning mobile app as part of the multi-channel digital experience that makes customers lives easier by allowing them access to products, services and their finances anytime, anywhere. The BBVA Compass Mobile App features advanced functionality that gives users access to the services of the branch via their mobile device. According to BBVA Compass Head of Business Development Pepe Olalla, "With a powerful mobile banking app, we can serve millions of customers, which is why having one of the best in the market will always be our goal."
Tomorrow, we'll review BCG's second pillar in a successful digital transformation program: Leverage the power of data.
---
*Excludes California.