Propel furthers investment into Ease, leading HR business tool
BBVA's San Francisco based Propel Venture Partners unit has announced it is to support a new round of funding into Ease - an HR software solution for small and medium sized businesses from the U.S.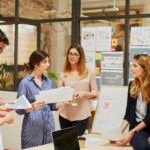 EaseCentral, which as part of the $19 million funding round is also changing its name to just Ease, will be using the capital boost to increase its product range and bring in new experience, it states.
The company offers an online benefits enrollment system built for insurance brokers and employers. Ease makes it simple to set up and manage benefits, onboard new hires, stay compliant, and offer employees one destination for all their human resources information.
The solutions is designed for smaller businesses that otherwise struggle with the cost of implementing in-house services.
In addition to the funding, for which the Propel sum is not being disclosed - the company announced an update to their popular system, used by over 60,000 businesses, that will include a new product design and system enhancements. New capabilities within the system will include EaseConnect+, which offers a first-to-market solution for SMB carrier connectivity. Principal Financial, Guardian and Humana are the first to take advantage of the new feature.
"The small group employer and agent have struggled with the inefficiency of paper to administer employee benefits. They have started to demand better," said Gary Davis Humana's National Leader for Distribution Partnerships.
"The Ease and Humana partnership represents an integration of services for an underserved market hungry for technology solutions. Our system integration will create a real-time flow of enrollment and benefit administration services powered by Ease," David added.
Ease brings the benefit enrollment process online, eliminating tedious and complicated paperwork, while increasing employee access to their benefits information. Over 1,200 agencies are currently working with Ease's software solution. And more than 1.5 million employees have used Ease to complete enrollment in more than 16 million benefit plans since inception.
"We are thrilled to announce this funding, accelerating our mission to provide brokers and the SMBs they service with cutting-edge software," said David Reid, CEO and Co-founder of Ease.
"We are placing a major emphasis on carrier connectivity, which has allowed us to create tools that were never available before for SMBs."
Ease has experienced rapid growth over the last year as it has successfully added brokers, employers and carrier partners to its system. Started in 2012 in San Francisco by employee benefits veteran, David Reid, and web and engineering architect, Courtney Guertin, Ease was initially launched on the U.S. West Coast and is among the most widely adopted, fastest growing solutions for brokers and employers in the area.