BBVA's Propel Venture Partners invests into psychology and machine learning tie-up business DataSine
Propel Venture Partners, BBVA's San Francisco based venture capital investment vehicle, has co-led the latest funding round into a business seeking to link up psychology and machine learning.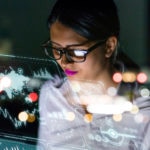 The $5.2 million in Series A funding round into London-based AI start-up DataSine will help business launch a new platform, which combines expertise in psychology and machine learning to help smaller businesses personalize their marketing at scale.
DataSine's content personalization platform Pomegranate is a collaborative AI-powered campaign platform that tailors content to personality specific to the customer.
Pomegranate helps businesses tailor content to resonate with their audience, from the segment level down to the individual. It applies machine learning to behavioural data that companies already collect to build customer profiles, and provides an AI-powered content editing platform to guide marketers in tailoring a range of content elements, including words and images.
The collaborative product philosophy helps businesses make far more informed decisions about what products and services to show their customers. This means they can spend less time on tasks like copy tweaking and A/B testing, and more time on being creative.
By helping marketers personalize everything from emails and landing pages to call centre scripts, DataSine allows the algorithmic tailoring of customer experience to move beyond traditional personalization and product recommendations.
With over 85% of interactions between businesses and their customers expected to occur online over the next five years, it is crucial for businesses to be able to understand customers contextually, and create more personal digital experience.
DataSine's expertise in psychology and machine learning has been making waves with its existing Enterprise customers across Europe where its tech has helped achieve uplifts of up to 80% in engagement and 71% in sales using the unique approach. Now DataSine is entering the SME market through the launch of Pomegranate in March. Pomegranate already integrates with HubSpot and MailChimp, and the company is looking to launch further integrations throughout the year.
DataSine founder and CEO Igor Volzhanin said: "I launched DataSine after moving to London to do a PhD in Psychology because I believed that personality can help companies understand their customers as a whole, which empowers them to truly connect with customers through every interaction, and move beyond traditional focus of click optimization. By helping businesses build genuine connections, we hope to change the way businesses see their customers."
According to Boston Consulting Group, personalization will push a revenue shift of some $800 billion to the 15% of companies that get it right over the next five years in three sectors alone (retail, health care, and financial services).
"Increasingly, organizations are shifting their focus toward content and data-driven marketing strategies. Personalized messaging and style can achieve greater marketing efficiency by resonating with the target audience and inspiring them to act, thus lowering the cost of delivery of services. DataSine, built by experts in AI and psychology, holds tremendous promise and delivers personalization at scale," Rohit Bodas, Partner at Propel Venture Partners, said.
DataSine launched in 2015 and has worked with leading companies from across Europe, including BNP Paribas and Tinkoff bank. It has also received numerous accolades, winning the BNP Paribas International Hackathon and being accepted into the prestigious Techstars accelerator programme.