Remote Deposit Online® is a lucky find for small business owners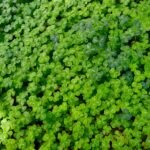 This St. Patrick's Day, consider the bank's service your lucky find in streamlining your cash management, and make depositing your checks fast, easy, and secure – using digital channels. BBVA Compass has made its way to the front of the financial industry's digital revolution on the strength of its technology and its vision – and the Remote Deposits Online® service is no exception.
For more information about this service, click here. But first, check out a few highlights below and see what your business could gain (lucky you!):
Process deposits after hours: There is an extended deposit deadline for same day ledger credit you could take advantage of.
Reduce costs: How? Larger balances. If you deposit larger balances, you could offset fees with a centralized deposit system.
Don't leave it to luck – stay secure: You can reduce posting errors with instant validation when documents are scanned.
Want to see how Remote Deposit Online® can save you money?* Check out our savings calculator at the bottom of this page.
Compass Remote Deposit Online® is subject to approval, including credit approval and the acceptance of the terms and conditions related to such service. Price listed applies only to small business customers and is subject to change without notice. Savings is estimated only and not guaranteed.
*Weekly costs are assumed to be incurred 4 weeks per month.