"Hi, how can I help?" They are only five simple words, but there was nothing simple about what followed when Google presented Google Duplex at its recent I/O conference recently. Google Duplex is an 'intelligent' AI-led voice assistant tool that is capable of executing simple voice calls, such as making restaurant reservations or hairdresser's appointments. It sounded so realistic and human that the person on the other end of the line in each demo was seemingly unaware that they were speaking to a machine.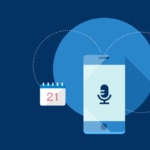 As the original method of human interaction it perhaps shouldn't be surprising that voice has been the focus of so much technology innovation that has made such major inroads in recent years. Intelligent voice assistants have transformed the way in which people listen to music, find information, catch up with the latest news – and now make real-life appointments.
The question is how innovations such as Google Duplex will change the relationship dynamics - and indeed the delivery of services - between banks and their customers.
There is a chasm between financial institutions and big tech companies like Google when it comes to trust. People trust banks with $52 trillion each year to save for the things that truly matter to them: a deposit for a new family home, savings for their children's university education; or an emergency fund that acts as a buffer for when life gets tough.
Big Tech is struggling to prove to the general public that they also can or should be trusted. After the initial excitement at the sheer technical accomplishment and potential of Google Duplex died down, people started raising real concerns.
Will people be notified that they are speaking to machine? Will they feel 'tricked' into thinking they were speaking to a human, and what does that do for their trust in what they see and hear? Will people be more flippant in their interactions with a machine, for example by making more speculative reservations or enquiries, feeling less pressure to fulfil a booking? And how will Big Tech companies ensure that interactions are kept safe and secure?
There is a plethora of security issues – particularly concerning authentication of customers' identities – that banks will have to contend with if Google and other Big Tech companies start empowering these advanced voice assistants to carry out more than just basic appointment-booking interactions.
A matter of security
The need for data security around voice-based services once again made headlines recently. Amazon cited a 'series of unfortunate events' in explaining how an Alexa Echo device recorded a couple's private conversation and emailed it to one of the couple's contacts. While identification will pose challenges that might make banks reluctant to allow customers to make enquiries through voice assistants, security failings of this kind will likely make them think twice about using voice-led AI to communicate to customers themselves, unless the technology originates within the bank's own secure networks and systems.
"AI's attraction lies in its potential to enhance consumers' lives through the delivery of more personalized, accurate, and efficient services"
This matters for banks like BBVA, which already have active voice assistant technology as part of their customer solutions mix. For example in Turkey, BBVA's Garanti Bank has UGI, its mobile voice assistant which will perform transactions on your behalf just by speaking to it in normal language. Part of UGI's appeal, which is so popular it has received hundreds of marriage proposals since launch, and being handed an EFMA award for innovation, is its omnichannel approach. In practice this means that, for example, if the system can't deal with the enquiry - say losing your credit card - the assistant will phone the Garanti call center and get you put through to the people who can help.
Complex tasks
These simple, transactional tasks are well suited to be carried out by AI-assisted tools. They do not require any sophisticated conversations or an emotional connection with a personal finance manager: technology can typically perform them much quicker and more accurately than humans.
Technology evolves, however, and experiments like Google Duplex will encourage every organization to look for more automation in service delivery and customer communications. Will customers be comfortable dealing with an AI-led, virtual mortgage advisor throughout their house-buying process, or is this one of life's big purchases where real human interaction and empathy will always trump computer efficiency? At the moment, most BBVA customers are increasingly hybrid, where people are comfortable doing an increasingly wide range of things DIY through digital channels, but still want a face to face interaction for others.
Ultimately, banks will need to operate in ways that work for their customers. AI's attraction lies in its potential to enhance consumers' lives through the delivery of more personalized, accurate, and efficient services. But there will always be a need for human interactions for more complex interactions – based on trust that comes from speaking to a human directly, rather than a voice-assistant.