Silicon Valley Immersion experience gives BBVA Compass clients a rare 360 course on entrepreneurship
When San Francisco comes to mind, so do connotations of entrepreneurship and innovative thinking. So when BBVA decided to set up a course on entrepreneurship for some of the bank's best Global Wealth clients, Northern California was its top choice.
BBVA Asset Management and Global Wealth is hosting a session called the Silicon Valley Immersion experience, utilizing its LIFE non-financial global strategy for clients. The course is a one week event designed for selected Global Wealth clients interested in venturing into entrepreneurship, starting on Feb. 18 and lasting until Feb. 23.
Our Global Wealth team goes beyond money.
"The session provides a one-of-a-kind, hands-on course for clients in this market," said BBVA Compass Global Wealth Segment Executive Giampaolo Consigliere. "It includes networking with top entrepreneurial minds, teaches best practices in the startup world and provides a thorough look into how to cultivate innovation. Our Global Wealth team goes beyond money – this is how we differentiate ourselves and generate trust with our clients in order for them to pursue their passion points."
The course, held with conjunction with the Wharton School of Business at the University of Pennsylvania and hosted on its San Francisco campus, is exclusively designed for the bank's client profile, meaning this course cannot be found anywhere else. American Express Global Business Travel is also a supporter of the program. There are three main components to the weeklong sessions: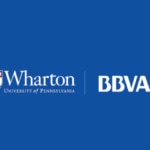 Training sessions
The sessions are conducted by Wharton School professors, and include topics such as the intersection of data and innovation, building value drivers, disruption, industry dynamics, and exploring the startup ecosystem. All sessions will follow three umbrella themes – innovation for growth, entrepreneurial financing and leading the change.
Interaction with companies
Clients taking the course will also have hands-on , face-to-face interactions with local startups and companies in the area. The program will be interspersed with visits from top entrepreneurial minds, including business owners, large digital companies and recently-created ventures. A tour of the Tesla factory is also on the docket.
Networking
One of the key drivers of the immersion experience includes networking, both during the course and after. Participants will get the rare opportunity to meet and socialize with some of the sharpest minds in Silicon Valley during the course and after Q&A panel sessions. Out-of-class networking includes evening activities with a leisure component (private dinner parties and cultural visits among them) to rest and recover for continued high-end learning the next day.