Startups with a social impact: how to be profitable and change the world
Doing business is no longer enough. One of the trends in business is also having a positive impact on society. The key is how to make it profitable.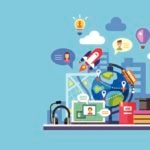 Financing companies with social, environmental, educational and health-related values. And also turning a profit. Many initiatives have been founded with this goal in mind, such as the foundation Ship2B, which promotes technological projects with a high social impact, or programs like BBVA Momentum, which supports entrepreneurs with innovative and sustainable solutions for social and environmental problems.
Xavier Pont, the co-founder and creator of Catalonia's Ship2B, participated in the event in Madrid, Investing in tech companies that are changing the world. He maintains that "being sustainable and being profitable are compatible".
Social impact investment "is very small" in the world, Pont explains. The entrepreneur underscores that out of the $193 trillion in the global financial market, socially responsible investing (SRI) represents $7 trillion and impact investing represents $114 billion. The difference between SRI and impact investing is that the former focuses on minimizing the negative impact of investments and the latter finances projects that generate a positive impact.
Pont pointed to the Anglo-Saxon model as an example: "The U.K. is 15 years ahead of us. They started with accelerators, incubators, funds and consulting firms," he said, stressing the importance of government support. "At a certain point, these investors," the Ship2B founders explained, "manage to get the government to make a firm commitment to impact investing and social entrepreneurship."
For the entrepreneur, "the historic decision to allocate part of the money from the lottery to foment social entrepreneurship led to a real revolution in this type of investments" in the U.K. The independent financial institution Big Society Capital is a social investment success story in the country.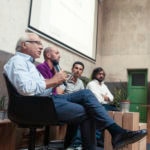 From left to right: Guillermo Sarrias (Ship2B),  Xavier Pont (Ship2B), Javier Martín (Loogic) y Nacho de Ramón (Sincrolab).
This is something that doesn't exist in Spain. "Here we have an emerging ecosystem, but it's in the early stages. There aren't any regulated impact investment funds. We have to get the local, regional and national support," he argued. Going back to the Anglo-Saxon world, the founder stressed that "a secondary market of social companies has already been created" there.
Strengthening this ecosystem is one of BBVA Momentum's goals. This year is its sixth edition. For the first time, entrepreneurs from five countries – Spain, Mexico, the U.S., Colombia and Turkey – will participate with projects that aim to change the world.  Of the 700 applications, 87 were selected to receive training and mentoring from bank experts for seven months in order to help them develop their projects.
One of the biggest challenges is obtaining a reasonable financial profit with a clear social impact. This is also the goal of another participant in the event, Nacho de Ramón, the CEO of Sincrolab, a platform that develops artificial intelligence to stimulate patients' cognition.
This project came about when scientists and engineers from the company "saw that nearly 40% of patients with trauma and brain damage did not receive adequate treatment." For Pont, this is an example of a social impact model. "For us, there is a magical triangle that encompasses technology, entrepreneurship and social impact. If social entrepreneurs partner with the scientific and technological sector and they collaborate, an endless number of valuable projects could be created," the Catalan innovator stressed.
And although impact investing aims to be profitable and sustainable, it's important not to forget the reason behind it: "When defining social impact we need to see what motivates the entrepreneurs. It isn't just about doing something social. We have to see that something else moves them – that there is a clear intention of wanting to change society."