The study by the consultant Deloitte 2016 Predictions for Technology, Means of Communication and Telecommunications highlights that the generation of people between 18 and 24 aren't going to abandon computers for cell phones.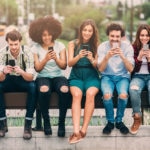 The consultancy points out that the trailing millennials (18-24 years old) will probably be the most pro-PC generation of all age groups. They won't abandon personal computers and they'll be the age group that has the most computers or planning on buying or using one.
The generation addicted to cell phones consider smartphones and PCs to be non-replaceable accessories.
The trailing millennials in developed countries generally don't have to choose between a smartphone and a PC. It seems that millennials (and other age groups) are more than happy to have a laptop open in front of them and a smartphone in the other hand.
And what does this generation do with laptops? The consultancy points out that the age group between 18-24 years old in the USA spend 49 minutes every day surfing the Internet or watching videos on a PC, as well as emails, games and applications for working/studying such as text processors. These 49 minutes per day is less time than that spent by older age groups in the USA (the 35-49 year old group uses the Internet or watches videos on their computers for 69 minutes per day), but this doesn't suggest that the youngest group is about to abandon their laptops or desktops in the short-term.
However, this same data shows that millennials use their smartphones even more, spending 99 minutes per day on the Internet, applications or videos. So the 18-24 year old group spends 148 minutes per day in from of a smartphone or PC screen, and 67% of that time is spent on their smartphones.
Depending on the contents or the type of use, the millennials keep using their PCs, and sometimes they even prefer it to mobile devices. An example of this distinction is video content. In a survey by Deloitte US in 2015, trailing millennials between 14-25 years of age stated the time they dedicated to watching four different formats of video content: for smartphones, tablets, computers/laptops and TVs.
Leaving TVs to one side, the computer screen was the dominant option, even for content generated by the user. In fact, for movies and TV programs (30-60 minutes), the millennials' use of computers was more than double the time than that spent in front of smartphones and tablets put together. Even though games and social networks are in fact options for which trailing millennials mainly use mobile devices, they find the larger screens of laptops and desktops to be more attractive than mobile devices.
With regard to online banking, the report highlights that, according to a study carried out in the USA in 2014, the 20-34 year old age group was much more inclined than any other demographic group to carry out activities related with banking through digital channels, with 65-80% of them using a digital medium to make internal transfers, check fraudulent charges, transactions or their balance.
This group was also the most likely to use banking apps for cell phones: more than double that of Generation X (35-49 years old) and almost more than eight times more than the Baby Boomers (50-70 years old). However, although they used the mobile app to check balances and make transfers, when asked for their preference between cell phone apps or the bank's website, the millennials preferred the bank's website with a 2:1 ratio over mobile apps for all types of transactions.
You can read the full report here.