Vacationing is easier with a smartphone at hand and a handful of essential apps for the beach, the mountain or the city. Whether to save on fuel, park in the shade or find the nearest public restroom, a millennial's vacation wouldn't be the same without a bit of digital help.
Beach bar hunter
Typical year-long Spanish customs – such as going out for tapas or for a sip of vermouth – become an even more pivotal part of people's lives during August Chiringuía is an app that helps users find the beach-front bars to cool down, no matter where they are.  According to food blog TheSpanishFood, the 'app' provides information such as business hours, parking and the menu.
 Chiringuía helps users find the best bars, restaurants and beach clubs"
And while on the food topic, another key issue is food allergies and intolerances.  For people suffering from any of these problems, an 'app' like Intolerapp will surely come in handy when considering eating out at a beach bar or restaurant, as it might end up saving them from rushing to the drugstore for antihistamines.
No to sunburns
Almost everybody seems to be concerned about skin care nowadays. But sometimes, putting a cap, sunscreen or any other product on is not enough. That is why downloading UVLens is good idea to avoid getting sunburnt.  According to its website, the 'app' generates a report with recommended sun exposure times and protection factor.  The app's recommendations take into account user location, as well as higher ultraviolet radiation zones, the date, the time of day and the type of skin.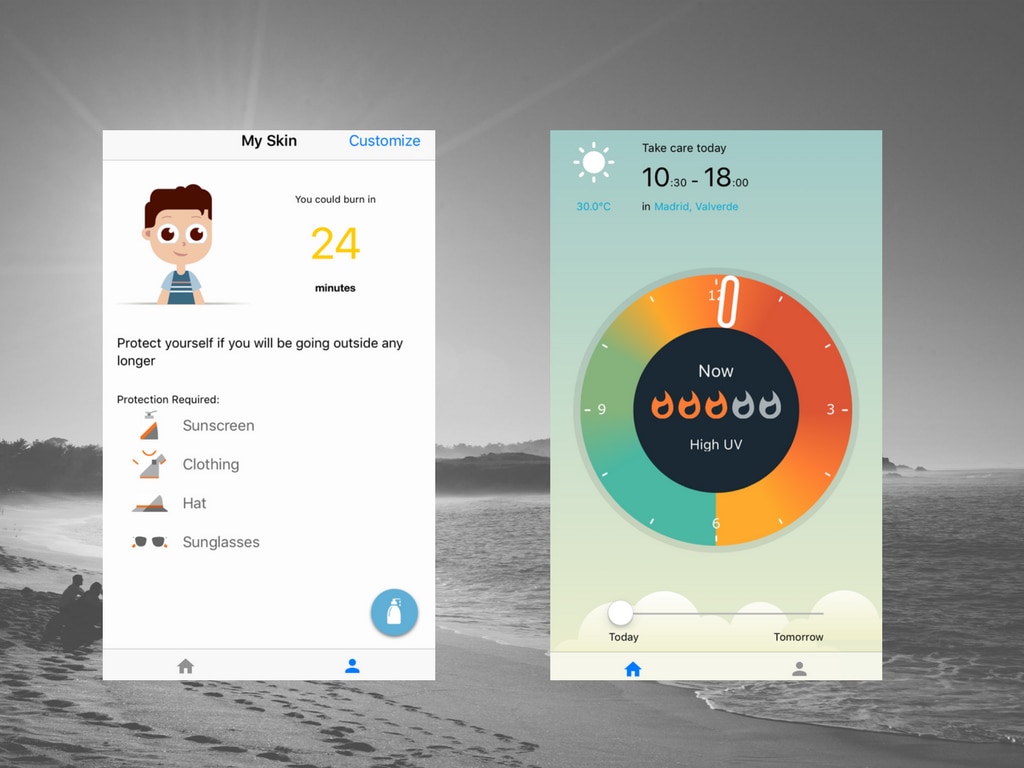 UVLens functionality screenshot. - In-house
Skin health also depends on adequate hydration and liquids should be more a more relevant part of the diet than ever.  Aqualert is an app that takes care of its users, reminding them about the minimum amount of water they should drink every day, based on the sex, weight and physical activity details they enter.
Aqualert includes a hydration level tracker & log, allows users to set intake reminders and also warns when the recommended amount is exceeded.
The application has been rated as a positive health tool by some media outlets, such as La Vanguardia, and features seamless Google Fit integration for more comprehensive physical health monitoring.
Restroom finder?
 Sneaking into a cafe or rushing back home to go to the toilet will soon be a thing of the past. The number of applications that help users find a public restroom - such as Where to Wee  or Bathroom Scout - keeps growing. With a database spanning over 150,000 restrooms worldwide, Flush Toilet Finder maps the nearest restrooms based on user location and classifies them according to how clean they are based on other user's votes.
Flush creator Jake Ruston has also designed a series of apps to make smartphone users' lives easier, such as an app for surfers that tracks tide times or a pollen forecasting map.  Pollen allergies also have local solutions, such as R-Alergo, an application released by Hospital de la Fe, in Valencia, Spain, that works with geolocation.
A parking solution...
Bumper to bumper traffic, full parking lots... coastal areas are also affected by these issues during peak season in the summer months.  Wazypark helps users find free spots within a 1 km range that works with bluetooth technology and uses a simple mechanism that allows app users to notify about empty parking spots by just tapping a button (drivers themselves create this collaborative space).
And for the fussiest drivers, being able to know where the shade will fall anywhere in the world, any time of year, is a welcome improvement in their lives. Sombrica lets users know in advance whether their parking spot will remain in the shade throughout the day and for how long. This way, drivers can choose the coolest spots to park their cars… provided, of course, that they have more than one to choose from.
... and when it's time to refuel
Fuel economy is an important part of any trip and Gasolinerasbaratas is an app that can help users save up to three euros each time they refuel.  This tool shows a map showing the cheapest among all the nearby gas stations based on a user's location and is updated with official sources such as the Ministry of Energy.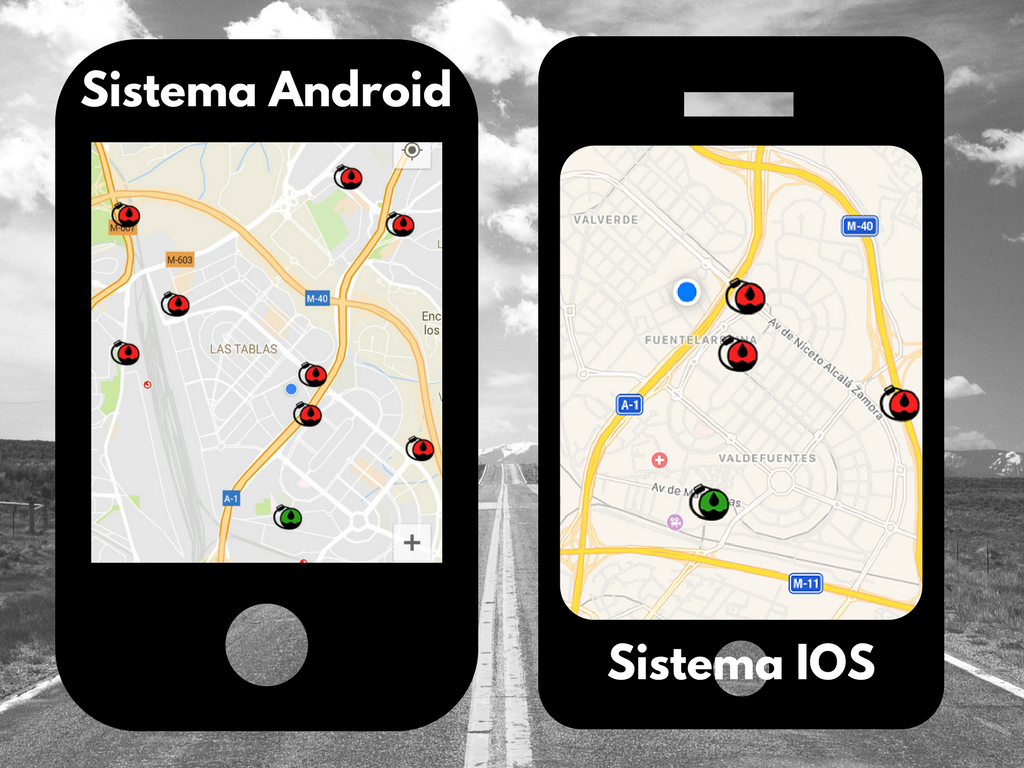 'App' screenshot in two operating systems. - In-house
Staying awake on the road, one less thing to worry about. Drivers will no longer have to rely on their co-pilots to stay awake.  Applications such as Stay Awake or Sleep Driving Alarm let drivers set up alarms to stay alert while taking long trips.
The number of apps to help drivers find the cheapest gas around or stay awake on the road keeps growing"
Live music for free
The concert and festival craze is more alive than ever among younger generations.  And never has it been easier to attend one of these events for free.  Millennials pockets will be less empty, and they may even be able to skip the cost of the train ticket or the local camping closest to the event thanks to Que Me Inviten Al Concierto.
Que Me Inviten Al Concierto is an app that provides access to ongoing ticket giveaways for 44 concerts and 15 festivals across 22 different cities, offering registered users the possibility to enter the draws and win tickets to attend the best musical events, spending as little as possible.  And, judging by their 40,000 Facebook page 'likes', young people seem to love this idea.