BBVA's core focus on delivering innovative, customer and client focused products and services continued to accelerate during 2017.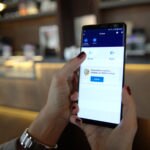 As the Group Executive Chairman stated at the BBVA 2017 Full Year Results, BBVA is "launching a multitude of user applications and functionalities, at a dizzying pace."
The impact of these developments has been reflected in the reviews the bank's customers give it, with BBVA now ranked number one in the Net Promoter Score in eight of its 11 core markets.
This push towards building out user focussed, digitally native products and services is fundamental to the bank's overall strategy - which is based on the increasing use of digital channels the bank is seeing from its customers. BBVA now predicts it will reach the digital tipping point –where more than 50% of its customer base is accessing its services through digital channels– sometime this year.
This graphic is designed to both showcase some of the products, services, investments and achievements the bank has made during the past year, and to ensure that BBVA's customers don't miss out on some of the functionality they now have access to.