Veridas: the Spanish startup that's revolutionizing biometrics
BBVA and Das-Nano demonstrate the potential that can come out of alliances between small and big business. Veridas represents a milestone in the development and launch of innovative payment solutions and user identification at BBVA Group. "Our technological developments are on par with the best in the world," says Eduardo Azanza, CEO of Veridas.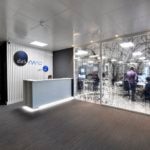 From January to September of this year, 28 percent of new clients opened accounts with BBVA using digital channels; and of these, 50 percent used the bank's 'selfie' functionality during the process. Reaching this landmark would not have been possible without Veridas, the joint venture that was formed in 2016 to revolutionize online payments and identification with biometric technology.
Veridas is a startup headquartered in Pamplona and formed from a union of BBVA and Das-Nano interests (with a 51 percent and 49 percent stake, respectively) to develop identity verification and authentication software relevant to the banking, energy and public services sectors. To date, Veridas has already implemented various leading-edge payment and customer identification projects for BBVA and other large clients.
One of these projects facilitates real-time customer enrollment, enabling potential customers to sign up with the bank online by using a selfie. With the launch of this solution in 2016, BBVA became the first financial company in Spain to offer this functionality to clients, helping jumpstart the bank's acquisition of online customers. "Biometric solutions are strategic for us. We were looking for a  company that could help us solve an issue we had with online enrollment in Spain and we found them." explains BBVA's global CTO, Ignacio Bernal.
Thanks to Veridas' nonstop dedication to research and investigation, in August 2018 BBVA's online enrollment process was improved so that document verification and customer identification can be completed with only a photograph and a video. Online enrollment is now also available to self-employed people who want to open an account with BBVA, "which means there is a greater pool of potential customers who can use this process to enroll with the bank in a matter of minutes " adds Bernal.
Another key contribution of Veridas has been the  invisible payments functionality at BBVA City, BBVA's headquarters in Madrid. The bank has launched a pilot in Madrid that uses facial recognition based on biometrics to allow employees to make payments without having to use either a credit card or smartphone. They simply have to stand in front of a booth with a camera that recognizes their face —previously registered in the application— and the payment is made automatically.
The same application lets BBVA employees pre-order whatever they want to eat and drink at the different restaurants in the headquarter building. Once collected, the order is automatically charged to the account that the employee-cum-customer has registered in the application. In the past two months, more than 2,500 biometric payments have been made by BBVA employees using this application. BBVA is also working to deploy real-time enrollment to other countries (such as Mexico, Argentina, Peru, and Colombia). Together with Veridas, they are also exploring new solutions based on voice recognition.
Other products developed by Veridas are being used by other companies for remote customer identification, facilitating payment systems, and access controls.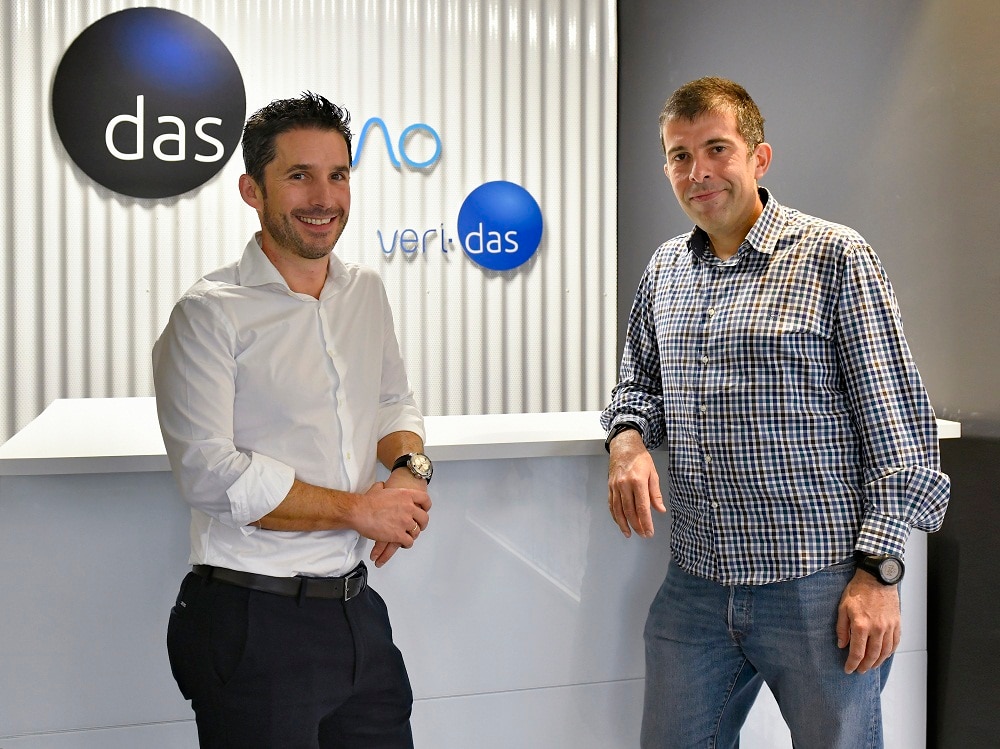 Eduardo Azanza, Veridas CEO and Ignacio Bernal, Global Head of Architecture in BBVA.
Specialized and local talent
"Our professional experience has shown us that our technological developments are on par with the best in the world." explains Eduardo Azanza, CEO of Veridas who advocates for betting on young, local talent, propelling their careers in a world-class technological environment. "We've set ourselves the goal of repatriating our talent. We have employees who were working in the United Kingdom and the United States and have come back to work in Spain." explains Azanza. In addition to software and analytics experts, the company employs engineers and PhDs who have studied telecommunications, information technology, as well as physics and chemistry.
Veridas works closely with universities —especially the two in Spain's northeastern province, Navarre— in undertaking doctoral theses, projects required for the completion of a degree and other projects that require technical expertise. Collaborating with the academic world also promotes the recruitment and retention of local talent. "A company like Veridas also shows that Spain can be a model in the technology sector, and that we can boast of having leading professionals." adds Azanza. In his opinion, Spain is "an ideal place to create high tech companies" because it has top-level educational institutions and an exemplary base of businesses.
Additionally, biometrics is currently one of the fields of technology with the greatest growth potential and is appealing to businesses both in Spain and abroad. "Currently countries like the United States are setting the standard in the field, but Spain is breaking into the sector with truly innovative projects." the Veridas executive adds.