BBVA's push into the invisible payments market has taken another step forward with the deployment of a facial recognition payment system.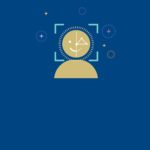 The system builds on the drive the bank announced earlier this year to deliver payment methods based on biometric data, to make paying for things at stores 'invisible'.
The newly deployed system –currently being offered to thousands of employees at BBVA's headquarters in Madrid– uses the facial recognition system developed by the startup Veridas - a JV of BBVA and Das-Nano.
Customers in the bank's restaurants simply have to smile (or not, depending on their mood) at a camera booth next to the cash registers, and provided they have registered, the system identifies them and automatically bills the customer for the purchase.
In the bank's cafes, colleagues can also use the dedicated Selfie & Go app to order their drinks ahead, with the system automatically charging the customer when they collect.
For the customer, these technologies speed up both the sales and ordering process, reducing the need to stand in lines or put down what they are carrying to find their payments cards or cash.
But, and with their consent, it also allows the retailer to push promotions to them - such as a free coffee with their meal, or a buy-nine-get-the-tenth-for-free deal.
For the retailer, it saves them time and helps increases sales by making the process of buying and paying for something quicker and more efficient.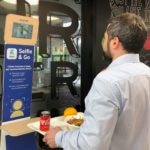 In order to use the new system, users just need to register in the app with a selfie, active their smartphone's Bluetooth and localization, and look at the camera so that it can identify their face.
Transforming payments
The new payment system is part of BBVA's determination to lead the development of frictionless payments in order to transform customers' purchase experience in stores. This new trend allows the payment part of the purchase process to "disappear" or to be made practically non-existent for the user.
While at the moment the system is only being used to take payments for pre-set meals and drinks, the next iteration should allow the system to actively scan the customers tray and to bill them for what is on it.
The bank is also working on solutions for other retailers that link RFID tags into the system, so customers can choose what they want within a store, and then as they engage with the camera to pay, the value of the goods chosen is calculated and the payment made.
The Selfie & Go system was designed along with Sodexo Iberia, the Group's restaurant partner. It forms part of a pioneer project in the world to first bring these new experiences to the restaurant and cafeteria sectors, and later to other stores.
Commenting, Guillermo Sanchez, who heads the project for BBVA's Global Payments team, said: "It's a fantastic solution that has customer experience at its very core. It's fast, secure, and will fundamentally change the ways people pay for good and services - literally taking things at face value."