BBVA is the first financial institution in Spain to launch the 'Online Onboarding' via mobile, which allows anyone to open an account in just a few minutes and start banking right away. This new service uses an innovative procedure that verifies a customer's identity through a selfie and a video call.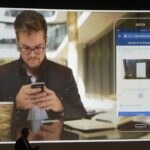 "Starting today you can open an account at BBVA more easily and quickly. The bank has designed a new feature that allows you to open an account instantly via mobile and start taking advantage of all its services and products. We know our customers value their time and like to do everything through their cell phones. With this new solution, BBVA takes another step toward making people's lives easier," said Head of BBVA Spain Cristina de Parias.
Fast, simple and secure process
Users can open an account at BBVA  through their cell phone by going to bbva.es or downloading the BBVA app. To start the process customers just have to identify themselves and provide their personal information.
The new remote registration service asks you for photo ID and a selfie. The bank can check to see that both images coincide through an innovative face recognition process. In the last step, a BBVA representative verifies the new customer's identity through a video call.
BBVA's new 'Online Onboarding'  process only takes a couple of minutes and allows the new customer to enjoy all the tools and functions the bank has to offer. This new way of opening an account is quicker and easier than the traditionally more complex method.
Advanced technology
BBVA is the first Spanish bank to offer this service, bringing to bear all its experience and knowledge of new technology, with innovative, secure and easy-to-use tools that meet its customers' needs.
After complying with the legal requirements and a pilot phase, BBVA is now launching it on the market. New customers don't have to pay any administration or maintenance fees for the account and they receive a debit card without an annual fee.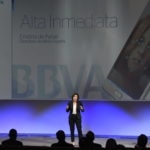 Head of BBVA Spain Cristina de Parias
You don't need an account at a different bank to verify your identity
European and Spanish law (Law 10/2010 on the prevention of money laundering and financing terrorism) makes it mandatory for a customer to verify their identity.
Spanish banks traditionally did this in one of three ways: by physically verifying the customer's identity at the branch, by sending a messenger to a customer's house or by checking their information against an account the customer holds at another bank. Now the bank regulator has authorized this new video-call identification process.
The new BBVA functionality allows customers to identify themselves through their mobile phone and open an account right away without having to send any physical documentation.
The new service responds to customers' needs and comes on top of all the things you can do with BBVA via mobile, like make payments, sign contracts remotely, direct deposit bills with just a photo or withdraw cash without a card. You can do all of this in a fast, simple and secure way.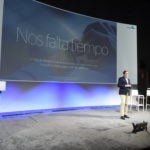 Gonzalo Rodríguez, Head of Transformation BBVA Spain
The BBVA mobile app comes with increasingly more features, allowing customers to do all kinds of transactions with their phones. This includes everything from contacting their account manager through BBVAContigo, or an electronic signature, which allows customers to open accounts and get cards, to deposits, pension plans, mutual funds, consumer loans or insurance. This year, customers can also pay and direct deposit their bills just like the app that gives you access to BBVA Valora, the tool that allows you to calculate the best price at which to rent or sell an apartment. All of this in a fast, simple and secure way.